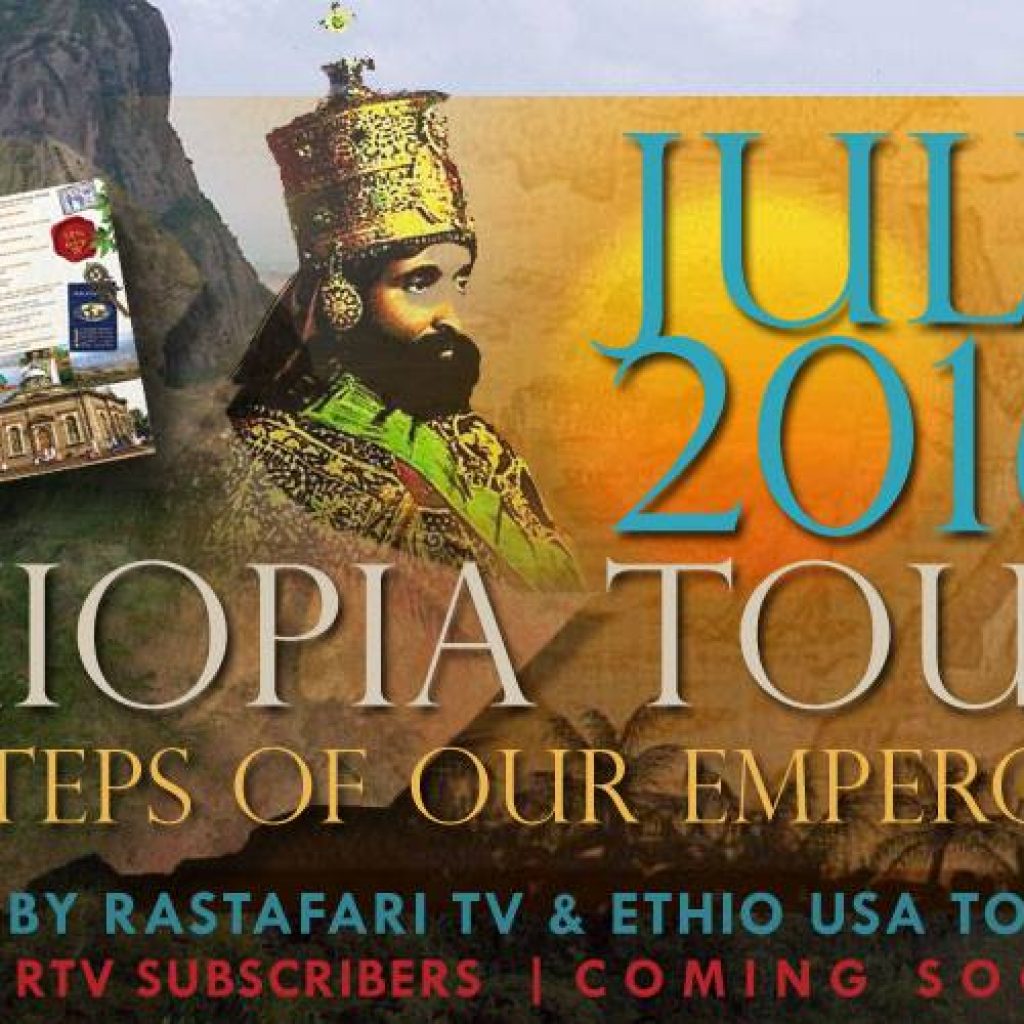 Rastafari TV Network  partners with Ethio USA tours to bring you The Ethiopian tour of a lifetime! All Roads Lead to Addis Ababa July 2016.
JOIN THE FOOTSTEPS OF OUR EMPEROR TOUR.
Itinerary includes round-trip flight from VA, USA to Addis Ababa. We can book your transfer flights from anywhere in the world!
 Tour Itinerary
DAY ONE: Nonstop Flight to Ethiopia by Ethiopian Airlines from Dulles int'l Airport, Washington D.C., USA one of our staff will meet you at the airport and proceed to  hotel
DAY TWO: After breakfast we will start the city tour from Mount Entoto  | Overnight same hotel
DAY THREE: Early in the morning we will have breakfast proceed to the airport Flight to Harar where The Majesty was born our staff will meet you at the airport and proceed to the hotel after check in we will drive to Ejersa Goro  | Overnight:  Harar
DAY FOUR: After breakfast we will visit  Babily and Harar and surrounding area | Overnight:  Dere Dewa
DAY FIVE: After breakfast we will drive to Kolebe church built by The Majesty  |  Overnight:  Nazeret
DAY SIX: After breakfast we will drive via Arusi to Bale Mountain  |  Overnight:  Wabisheble Hotel
DAY SEVEN: After breakfast we will visit Bale Mountain where the Endemic wildlife are found  | Overnight:  Wabisheble hotel
DAY EIGHT: After breakfast we will drive to Sofe Omer cave and the land escape with beautiful birds  | Overnight:  Wabisheble hotel
DAY NINE: After breakfast we will drive to Shashemene to meet the Rastafarian community and celebrate the Birth Day of Majesty | Overnight:  Wondo genet
DAY TEN: After breakfast we will drive to Awassa and Tabbore mountains and city tour of Awassa to see one of the  Rift Valley Lake | Overnight:  Awassa
DAY ELEVEN: After breakfast we will drive to Arbaminch   overnight Arbaminch hotel/ Lodge
DAY TWELVE: In the morning  after breakfast visit The dorze village and after lunch, a bout trip to see the crocodile market  overnight same hotel/ lodge
DAY THIRTEEN: After having breakfast we will drive to Sodo and procced to Tiya we will visit this historical place and local village too. Overnight hotel sharaton Addis or 4 star hotel
DAY FOURTEEN: After breakfast we drive to Debre libanos, another historical church built by  Majesty and Blue Nile gorge overnight same hotel
DAY FIFTEEN: Day Visit the Market (Merkato) and shop all day, and night FAREWELL dinner will be provide by  the company in one of the best Ethiopian traditional restaurants | overnight:  Depart to your destination by Ethiopian Airlines