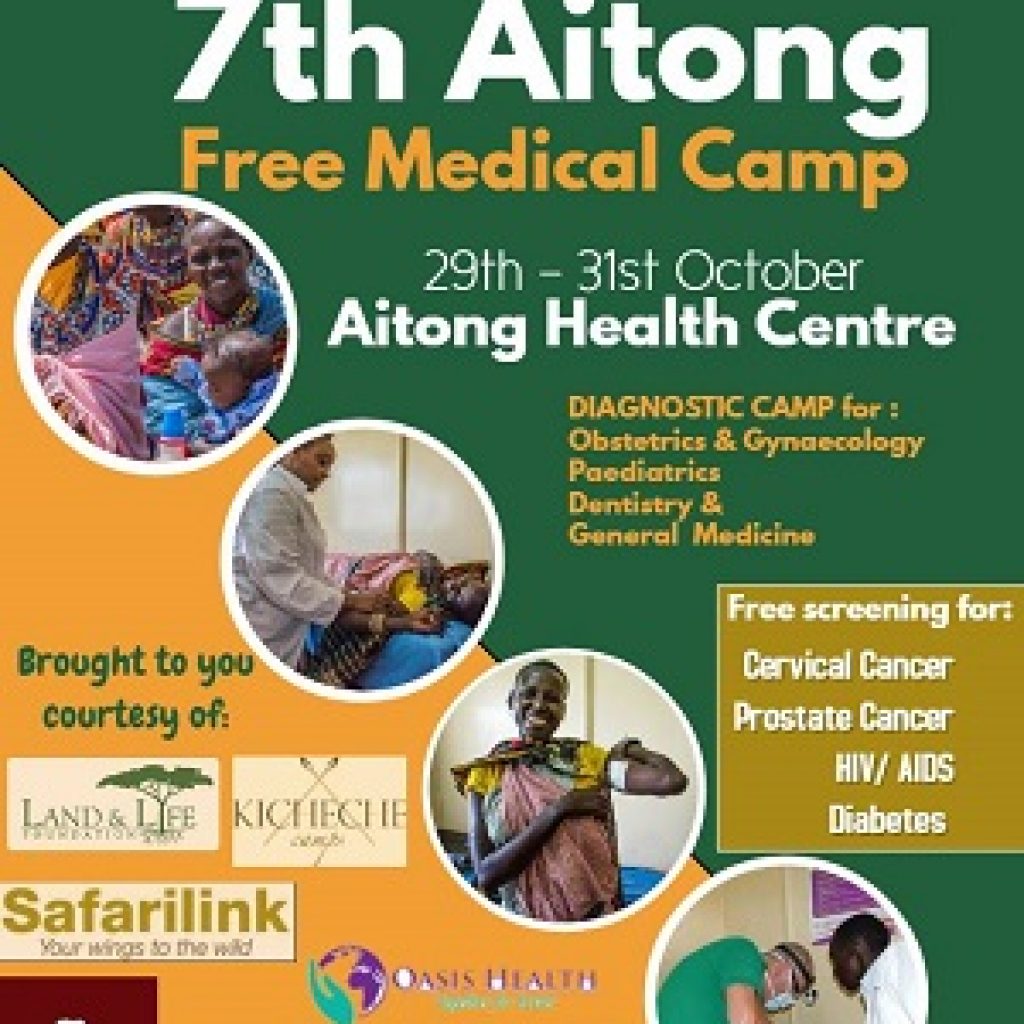 The 7th Annual Aitong Free Medical Camp is proudly organized by the Land & Life Foundation, the charitable arm of Elewana Collection. The Foundation is a non-profit focused on supporting communities living in and near the key conservation areas of East Africa. We strongly believe that securing land for conservation, protecting species and providing communities with benefits is crucial for survival of East Africa's spectacular wildlife and habitats.
This year the Aitong Camp will be run in partnership with a number of organizations providing funds, in-kind resources, and logistical support: Elewana Collection, Elewana Elephant Pepper Camp, Kicheche Camps, Saruni, Safarilink, Oasis Healthcare, Aitong Medical Centre and NHIF.
The Annual Aitong Free Medical Camp takes place in Aitong, a small town in the northern part of the Mara. The people around Aitong are predominantly pastoralists. The Maasai are the largest tribe in population, making Maa the most common language. However, due to trade, tourism and education, a relatively large number of people can now speak Kiswahili with a few also understanding English.
The Aitong Medical Centre is a facility managed by the Christian Missionary Foundation, Narok. The medical centre also receives support from the Ministry of Health, Narok County. Aitong Medical Centre has a total of 11 permanent staff, 9 of whom are of a medical background and two support staff. The centre consists of a number of consultation rooms, a maternity wing, a medical lab, an emergency ward and staff quarters housing some staff. Aitong Medical Centre serves as a medical hub in the area. The nearest referral hospital is two hours' drive away in Tenwek, approximately 86 Km.
The 2017 Annual Free Aitong Medical Camp was a great success, reaching a greater number of community than ever before and treating a record number of patients, 1,120 in total making it 3,370 patients treated since 2012. The increased number of partnerships enabled a diversification of services and a greater reach, brought in more funds and increased medical expertise. The camp focused on screening for cervical cancer, HIV/Aids and diabetes as well as general medical orthopaedic consultations, dental work and paediatrics. To read more about the details of the medical camp, please click here to see the report.
We hope to surpass the figures for last year and treat even more people from the community. Please help us take 8 doctors to the Mara this October for our 7th medical camp so that they can help so many from the Aitong Community that need medical attention. With only one month to go, we are so close to reaching our goal of raising $6,700 towards this camp and we cannot do it without you! Will you help with a gift of $50 or more to reach our goal?  Your gift is critical because it will help:
Stock the community clinic which serves over 10,000 people per month with the required medicines and pharmaceuticals
Bring in volunteer doctors and specialists who will diagnose, treat and create awareness around preventable diseases prevalent in this community
Build the capacities of the Aitong Health Center and it's dedicated staff
Please make a gift today and help us help our community, because their health is in our hands!