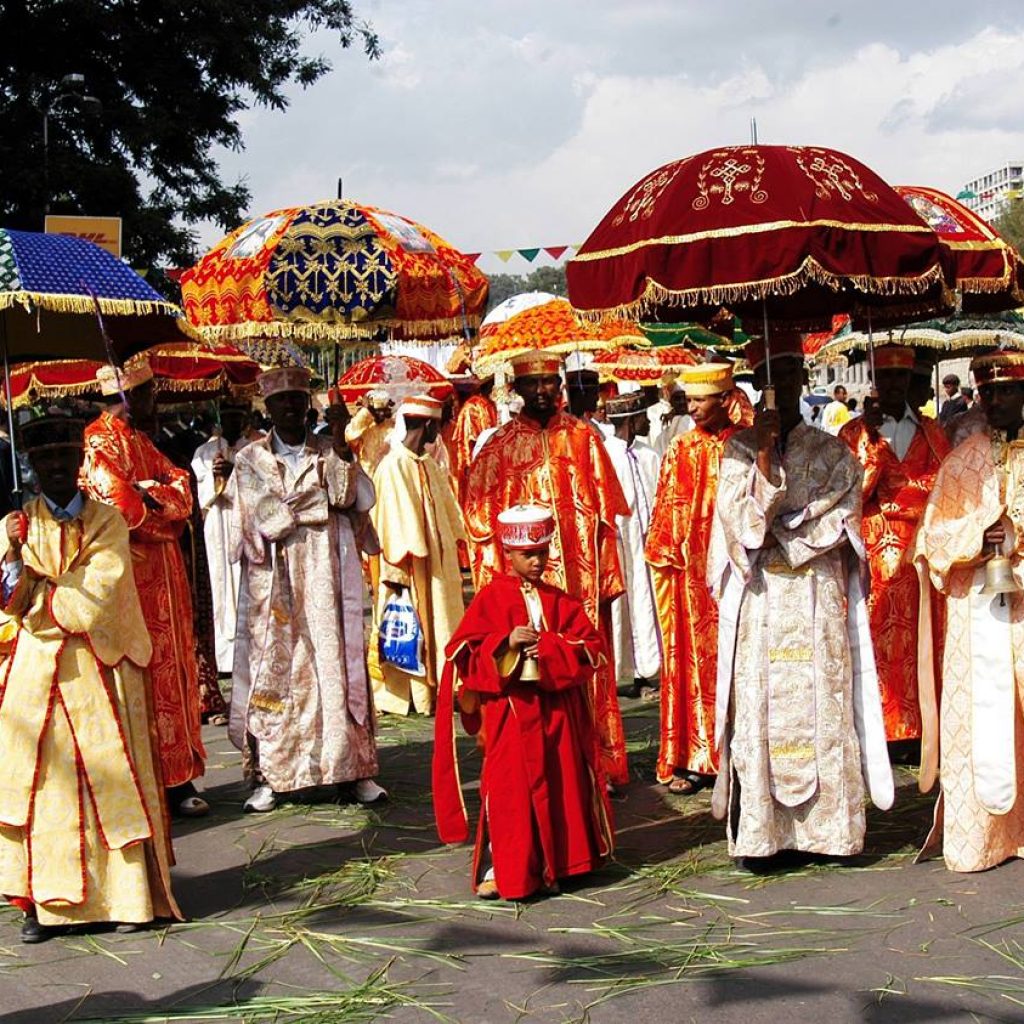 Timket, the Ethiopian Epiphany, takes place January 18, 2019.  This awe-inspiring religious occasion honors the baptism of Christ in the River Jordan and is celebrated throughout Ethiopia. The two-day event is both solemn and joyous, a rich spectacle of exuberant songs, spontaneous dances, and colorful processions.
The traditional ceremony includes carrying the Tabot (replica of the Ark of the Covenant) early afternoon on Timket eve known as Ketera. The festivities continue into the night and through the next day with priests performing the rites of baptism. Thereafter the Tabots make their return journeys, again with much pomp and jubilation, to their churches where they will remain for another year.
Air-inclusive packages start at $999 from Ethiopian Airways gateway cities (Washington, D.C., New York – Newark, Chicago, and Los Angeles), subject to availability and other restrictions*
The two day/one night Timket package in Addis Ababa from Ethiopian Holidays includes:
One night accommodation on sharing basis at 4-star hotel (single room rates below)
Dinner, breakfast & lunch
Attending two-day Epiphany ceremony
Half-day Addis Ababa city tour
English-speaking guide, all ground transportation and airport transfers
Excluded are any other expenses not listed above
Above package available land-only basis starting at $199 per person                    (commissionable to travel agents, 7%).
     Timket package rate information (rates USD, per person):
1 Night/2 Days Sharing Room Occupancy    $199
1 Night/2 Days Single Room Occupancy       $249
Extra night sharing room $35
Extra night single room $60
Child under 12 years of age $149
Timket Package Itinerary
Day 1: January 18, 2019 Addis Ababa
On arrival in Bole International Airport, meet, assist and transfer to your hotel. After breakfast, proceed for a half-day sightseeing tour of Addis Ababa which includes National Museum and the Holy Trinity Cathedral.  After lunch, you will be able to attend the colorful procession of the Ethiopian Epiphany or "Ketera" in Addis Ababa. In this procession, the replicas of the original Ark (Tabots) from different churches will be taken and are carried by priests under huge colorful umbrellas; Deacons also carry processional crosses, religious paintings and bells. In the occasion, many people will sing, dance and ululates as they accompany the Tabots all the way to the pool of water where the Tabots are kept in white tents through the night. Meal Plan: Breakfast, Lunch & Dinner. Overnight at 4-star hotel.
Day 2: January 19, 2019 Addis Ababa
Today is the main day for the celebration of the Ethiopian Epiphany. Therefore, you will have a chance to see the sprinkling of the blessed holy water in remembrance of the baptism of Jesus Christ in the river Jordan in the hands of John. The Tabots (the replicas of the original Ark) are also carried back to their respective churches. Late in the afternoon, you will be at leisure. In the evening, we invite you to a memorable farewell dinner in a traditional restaurant with music and dance.  Meal Plan: Breakfast, Lunch and Dinner
For more information and to book, please visit Ethiopianholidays.com or
call 1-800-445-2733 | 1-833-923-2689 or 1-703- 682-0570
*Any air-inclusive restrictions
Fares are applicable based on availability
Fares displayed on this release are starting prices
Restrictions apply