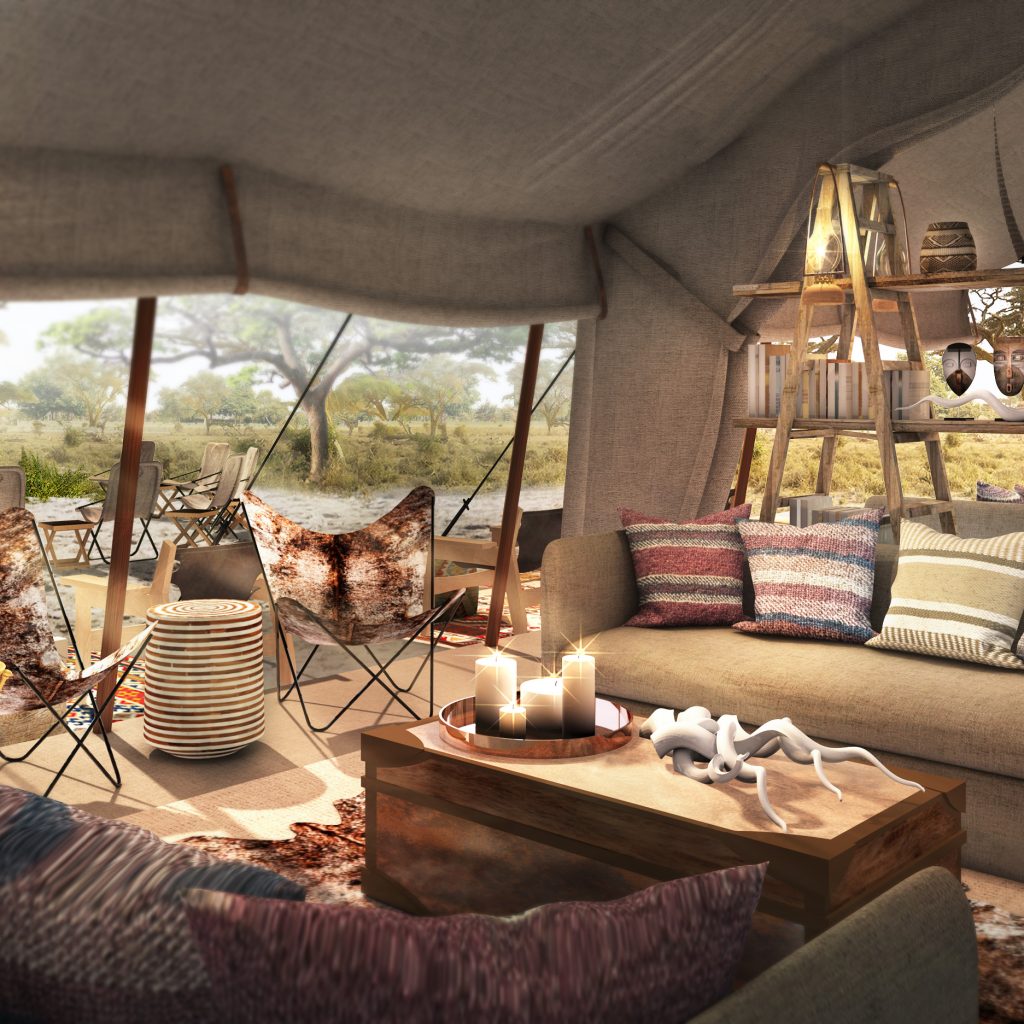 Back to basics is the theme for African Bush Camps latest addition, Linyanti Expeditions opening early May. The new camp keeps in style with our other expedition style camps. Going back to basics strengthens the foundation of an authentic safari, submerged into what is purely Africa. The basics are not a compromise on comfort or safety but rather the exploration of what, in this modern world is a genuine luxury… unobstructed landscapes, untouched wilderness and unaffected wildlife
Set in the Linyanti private concession in Northern Botswana the small, intimate camp will have just 6 tents, ensuring the same personalized service for all 12 guests. Each of the 6 tents will be on the ground and have an ensuite bathroom at the rear of the tent. Each bathroom will have its own toilet as well as a bucket shower, taking guests back to that bygone era of the original expedition camps.
There will be 2 main tented areas. One will form the main dining area and will have an open fire where all the food preparation will take place. This will afford guests the opportunity to interact with their chef team and be exposed to the finesse and art of creating delicious meals in rural Africa. The second main tented area will create an intimate space to relax, read a book or interact with your hosts and fellow guests whilst enjoying the views over the Linyanti Marsh.
The primary focus of Linyanti Expeditions will be taking to your feet and exploring your surroundings through the most humbling method of safari…walking. Face your surroundings eye to eye and feel the thrill of walking wild. Morning, afternoon and night game drives are also on offer as well as mokoro trips through the Linyanti Wetland.
Join us and reconnect with your foundation and get back to basics.
Quick Facts
Number of Tents: 6
Maximum Guests: 12
Age Limit: 16 years
Ensuite: yes, bucket shower
Activities: walking safaris, morning, afternoon and evening game drives, mokoros
Season: May to Oct
Location: Linyanti private concession, Northern Botswana
Access: air into Saile Airstrip
For more information contact@africanbushcamps.com