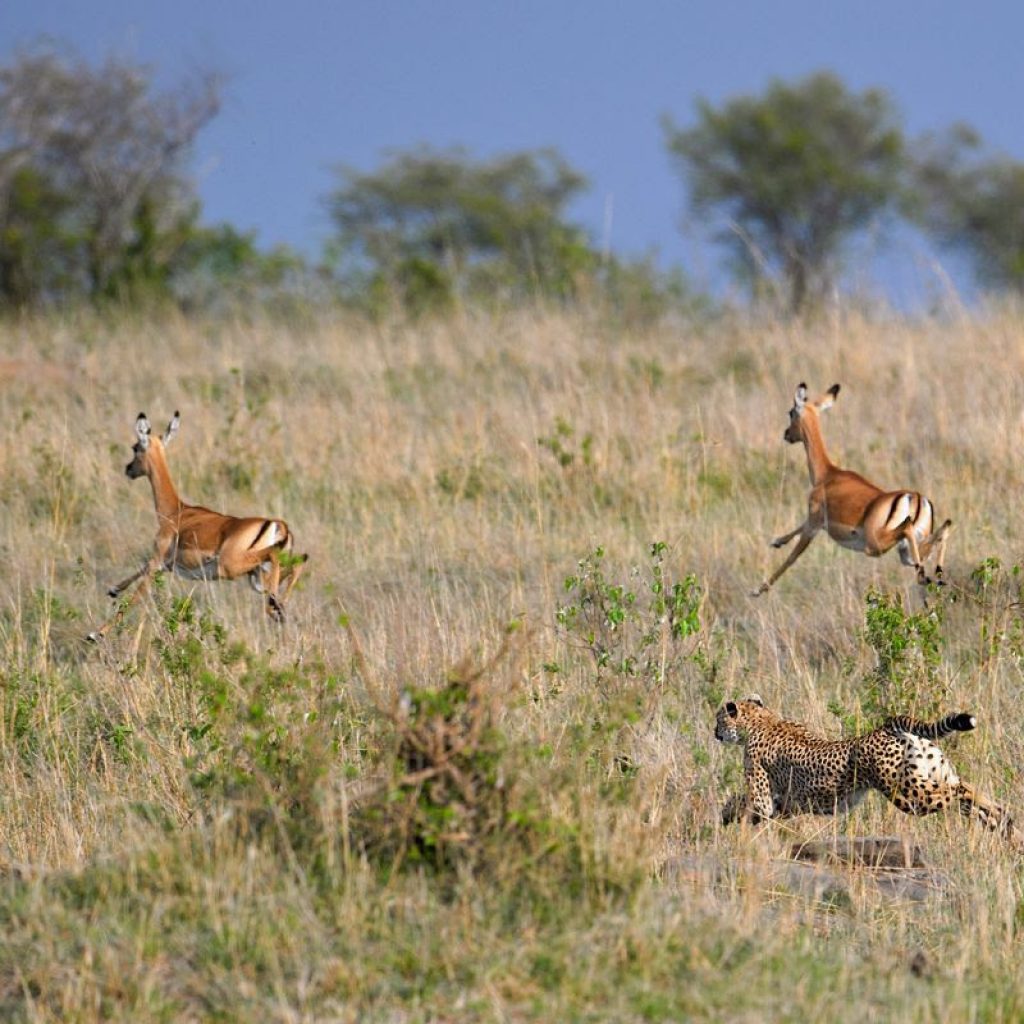 KENYA – May 31, 2019 – Between June and October 2018, every guest at Enaidura Camp witnessed a successful big cat hunt on their safari in the Masai Mara.  Legendary guide-owners Paul Kirui and Johnson Ping'ua "Ping" Nkukuu used their decades of guiding experience to predict wildlife behavior and make sure guests were in the right place at the right time to witness incredible animal interactions — in this case, achieving a 100 percent success rate of seeing successful big cat hunts from start to finish.
For guests who are ready to see this kind of big cat action for themselves, Enaidura Camp announces a stay 4 / pay 3 special valid for the months of June and July.  Contact below for rates and availability.
The camp, located near the confluence of the Talek and Mara rivers, has been tailored to serve as the favored base for Kenya's exceptional guides. Enaidura's legendary guide co-owners, Paul Kirui and Johnson Ping'ua Nkukuu (known as Ping), have both been named to Conde Nast's 25 Best Safari Guides list, which encompasses guides throughout Africa.  Under Ping and Paul's knowledgeable guiding and experience, the camp provides outstanding service with an emphasis on flexible support for serious game viewing. In one example, legendary guiding by Paul Kirui from Enaidura Camp put his guests in great position for an out of season river crossing and lion hunt.
Enaidura means "migration" in the Maa language. It's the best name for the camp, which is perfectly positioned in the Masai Mara ecosystem to experience the Great Migration as it moves into the region from July into October. It is also an extraordinary wildlife location at any time of year.
Game drives are the focus at Enaidura, using specially designed, open-sided vehicles for an intimate experience with the wildlife. The camp has six guest tents with private en-suite bathrooms plus a two tented family unit, a main dining and lounge tent. Enaidura is known for our vibrant Maasai staff, including developing some outstanding Maasai women in their first foray into tourism.
For more information and to request rates for the Stay 4 / Pay 3 special, please contact info@enaiduracamp.com.
###