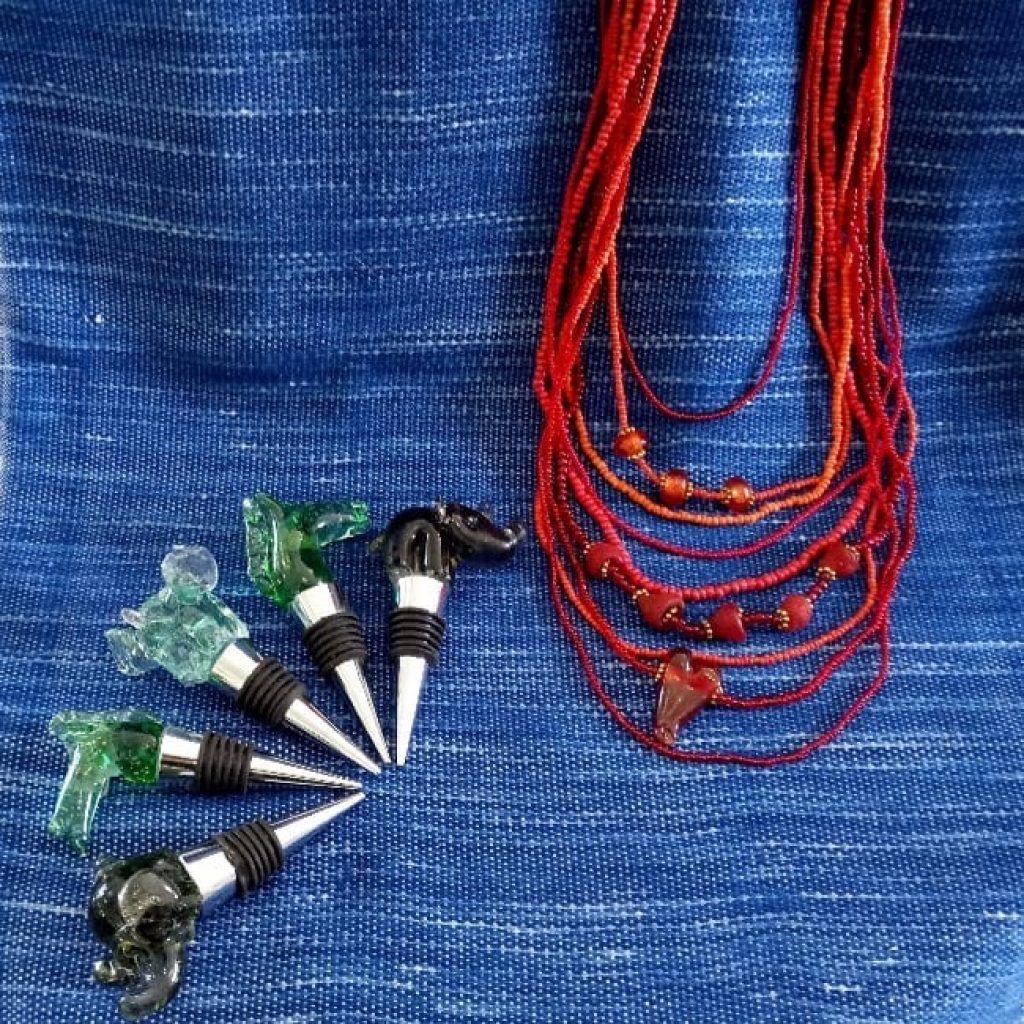 In April Hannah and Ruth had the honor of representing Shanga at the WTTC Summit held in Seville. Shanga was a finalist in the Tourism for Tomorrow Awards in the category of Investing in People.
Prior to their departure Ruth explained to the staff where she was going and how Shanga was to be represented. When the team heard that the former President of the United States of America, Mr. Barack Obama was going to be at the Summit, in their excitement they decided to make gifts for him and Michelle. Mr. Obama's gift was a set of bottle stoppers with glass animal tops made by our glass blowing department under the direction of Alec. Michelle's gift was a necklace made from a maasai beading technique incorporating both our glass and Ghana beads. The necklace was a collaboration, first with the bead makers Basley, Livingston & Rajabu, then was completed by Happy. Mr. Barack Obama and his wife are an inspiration to our team and they put their hearts into making the gifts.
The WTTC council people assisted in giving the gifts to the former President's staff. We haven't yet heard from the Obama's representatives but we are keeping our fingers crossed. Knowing their gifts had been delivered would be a gift of a lifetime to the team at Shanga. To those reading this, if you happen to have a direct line to Mr. Barack Obama or Michelle, please ask if they received their gifts from a very special and talented team in Arusha, Tanzania.
Shanga is a successful social enterprise which employs people with disabilities to create unique, high-quality, handmade jewellery, glassware and home wares incorporating recycled materials. These products are sold in Tanzania and all over the world, with profits being reinvested back into developing opportunities to employ more people with disabilities.
Combining an uplifting local community project with unique artistic activities and opportunities to purchase handmade gifts, Shanga has been a favourite Arusha tourist destination since its inception in 2007.
Shanga became part of Elewana in 2017 as part of their Corporate Social Responsibility program, with an ongoing commitment to the people of Tanzania. Elewana Arusha Coffee Lodge is the home of Shanga, which comprises of an open workshop for glass-blowing, weaving, sewing, Tinga Tinga painting, bead-making and metal work, with a shop showcasing all Shanga's handmade products.