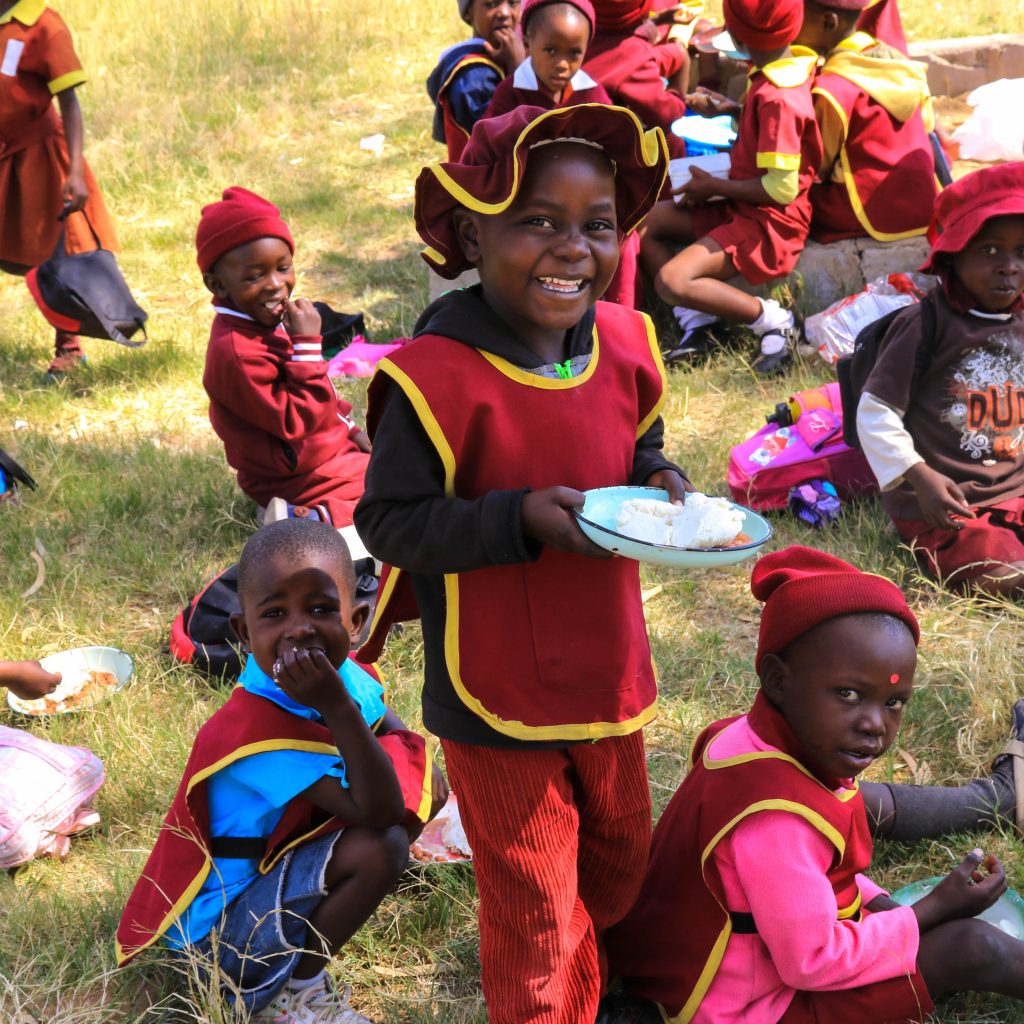 Zimbabwe is facing its most devastating drought in 40 years. The World Food Program USA reports that more than five million people in Zimbabwe need food aid, with many being pushed toward starvation.
To combat hunger during this record drought, Imvelo Safari Lodges are providing free lunch to 2,660 school children each school day at 11 rural schools near their lodges in Hwange National Park and Victoria Falls, Zimbabwe. In total, Imvelo will provide upwards of 425,600 school lunch meals in 2019.
It costs just $4 to provide lunch to a school child each day for a month ($.20 per meal). $50 will feed 250 students one meal or one student for the rest of the year! To learn more about the program and how to donate, visit https://www.hwangeschoollunch.org/. 100% of every donation is used to purchase foodstuffs for the school lunch program. Imvelo provides all the logistics including sourcing, storing and distributing the food.
The team at The Kusini Collection, Imvelo Safari Lodges' North American trade representation, are each sponsoring one student's lunch for the remainder of 2019. Please consider doing the same.
History: Imvelo's Hwange School Feeding Program has been running since 2011. Western Zimbabwe, known as Matabeleland, is an area of unreliable rainfall, and in years of poor rainfall crops fail and this means no food for rural Zimbabweans or fodder for their livestock. Many school children would arrive at school without having had a meal. As a consequence, their concentration and performance in the classroom was poor. After witnessing exhausted hungry children falling asleep in class and struggling to walk to and from school every day, Imvelo have made it their mission during drought years to provide a cooked meal to every school child at the schools in the Hwange districts they operate within. Prior to this year, 2016 was their biggest school feeding year where 412,000 meals were provided to school children in the area. Learn more here: https://www.hwangeschoollunch.org/
Imvelo Safari Lodges (https://www.imvelosafarilodges.com) operates six lodges and camps in the Victoria Falls area, the Zambezi National Park and adjacent to Hwange National Park in Zimbabwe – Gorges Lodge, Zambezi Sands River Camp, Bomani Tented Lodge, Camelthorn Lodge, Nehimba Lodge and Jozibanini Camp. Two of Imvelo's lodges are built on community conservancies bordering national parks on land belonging to local villages. This leads to a smaller environmental footprint in the park and provides a powerful economic benefit for local communities as well as an incentive to protect wildlife.  Guests who stay at these unique, owner-run lodges enjoy incomparable wildlife and photographic safaris with highly experienced guides, guided game walks, spectacular views and surroundings, adrenaline packed activities, luxurious accommodation, and thoughtful and attentive staff.
For more information or questions, please contact our North American representatives at the Kusini Collection at info@kusinicollection.com.
###
Media Contacts:
Tad Bradley: 425-448-2545/tad@kusinicollection.com