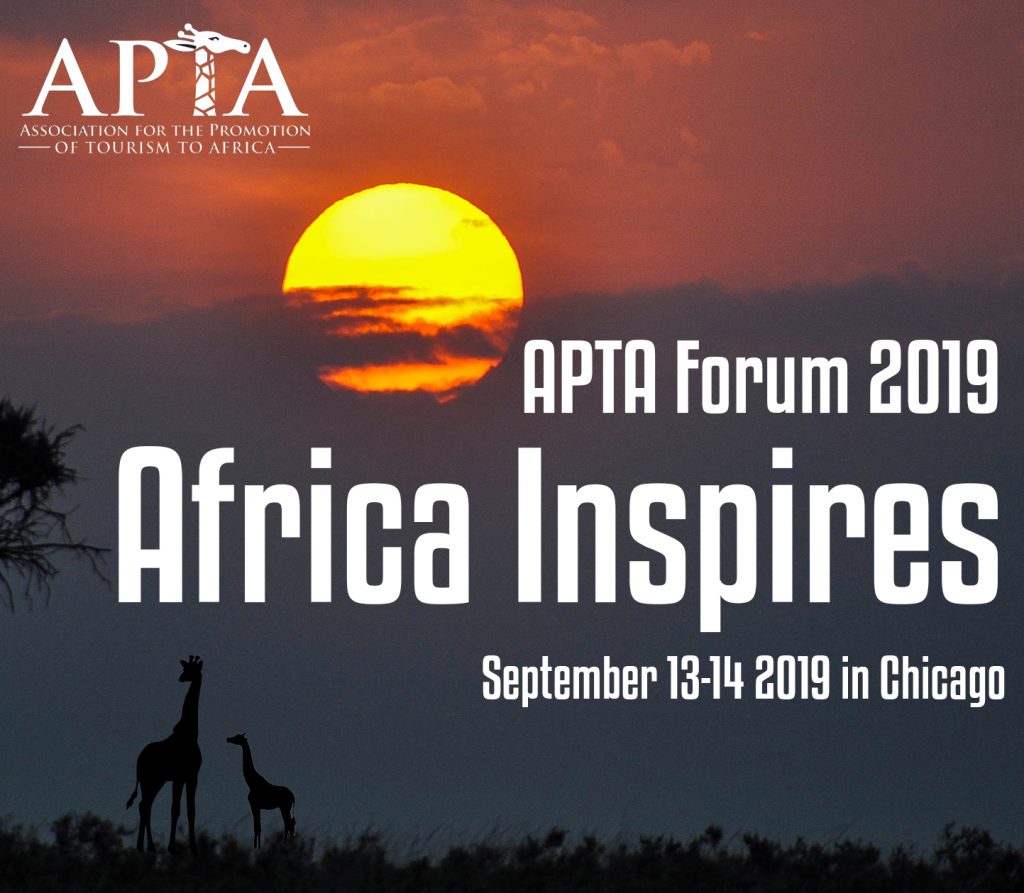 Registration is now open for APTA Forum 2019: Chicago.
Africa Inspires is the theme for the 2019 APTA Forum taking place in Chicago, Illinois at the Downtown Millennium Knickerbocker Chicago.
This is your chance to meet some of the influencers, change makers and pioneers in the world of Africa, conservation & travel. Plus, reconnect with your fellow APTA members, network with new members and most of all, be inspired by Africa.
This year's theme says it all. Africa Inspires the Travel Industry and we don't want you to miss this exciting opportunity. Come to learn, network and socialize with our presenters, sponsors, chapter officials and members from all 9 national APTA chapters plus new members from our NEW Virtual Chapter.
FULL CONFERENCE AGENDA
Friday, 13 September
12:00PM onwards – Registration
President's Welcome & Presentations – TOWER EAST
1:00pm – 5:30pm
1:00pm – Welcome – Cheryle Velsor, Executive Director

1:30pm – Millinneum Knickerbocker, Welcome & Colorful History of the Hotel

2:00pm – Bill Zeigler, Brookfield Zoo, Africa Pangolin Program

2:45pm – Chris Anchor, Urban Coyote Research Project

3:30pm – Rachel Santymire, Lincoln Park Zoo

4:15pm – Phumzile Mazibuko, Consul General , South African Consulate General

4:30pm – Jim Clarke, Wines of South Africa
5:00 – 5:30PM – South Africa Wine Tasting
5:30pm – 7:00pm – Welcome cocktail reception – welcome glass of wine/beer/soda & cash bar
YONAS ASFAW & SALEEM AKHTAR, ETHIOPIAN AIRLINES – TOWER WEST
Attendees are free to enjoy dinner by own arrangement
Saturday, 14 September
8:00am – 8:45am – Breakfast Sponsored – KATHRYN MONACO, PSCINC Consulting
Presentations – TOWER EAST
8:45am

 – Breakfast sponsor – Kathryn Monaco, PSCINC Consulting

9:00am – 

Corne Schalkwyk, Eco-Training

9:30am – Liz Bean-Crookston, Bush & Beyond

9:45am – Michael DaCosta, CroisiEurope
10:15am – 10:45am –  Coffee Break Sponsored – MICHAEL DaCOSTA, CROISI EUROPE
Presentations continue – TOWER EAST
10:45

a

m 

– Betty Icahn, Kenya Tourism Board

11:15am

 

– Kiki Paris, Wanderlust Portfolio

11:30am – Jane Vermeulen, Yalla Tours

11:45am – Yonas Asfaw, Ethiopian Airlines

12:00pm – Lorenzo Giani, Tsogo Sun

12:15pm – Jessie Bligh, Emerging Destinations
12:30pm – 1:15pm – Sponsored Boxed Lunch – JESSIE BLIGH, EMERGING DESTINATIONS
Presentations continue – TOWER EAST
1:15

p

m 

– Susana Iakovliev, Rwanda Tourism

1:30pm – 

Michelle Hollis, Seolo Africa

1:45pm – Samuel Seyoum, CTC, GTT Travel

2:00pm – 

Inge Dykman, WESGRO

2:15pm – 

Lorraine Yoko, SAA Vacations charity "Khazimula Children's Project"

2:30pm – Joshua Smith, South African Tourism

2:45pm 

– Jill Polsky, South African Airways
3:00pm – 3:30pm– Ice Cream Break, Afternoon Break – LIZ BEAN-CROOKSTON, BUSH & BEYOND
 Presentations continue – TOWER EAST
3:30pm – "Getting the most out of your Membership" – APTA Executive Board & Jose Cruz
 4:00pm-5:00pm –  Closing, Raffle & Prize Drawing, Photos
6:15pm(Boarding) 6:30 – 9:30pm –  Chicago's Fair Lady/River Boat Cruise – South African Airways, SAA Vacations, WESGRO, South Africa Tourism. Chicago's Fair Lady, 112 E Wacker
Your registration fee includes:
A full program of education, networking, speakers and Africa-centric content over two days
Friday night welcome cocktail party and appetizers
Breakfast on Saturday
Two coffee breaks on Saturday
Lunch on Saturday
Dinner Cruise Aboard the Fair Lady River Boat with wine, beer and dinner
The Forum will conclude with a special evening boat cruise aboard Chicago's Fair Lady River Boat on Saturday the 14th from 6:15-9:30pm. The cruise will include wine, beer and dinner. 
Registration is $149 before July 1st and $169 afterwards. For sponsorship opportunities, please contact events@apta.biz for more information.