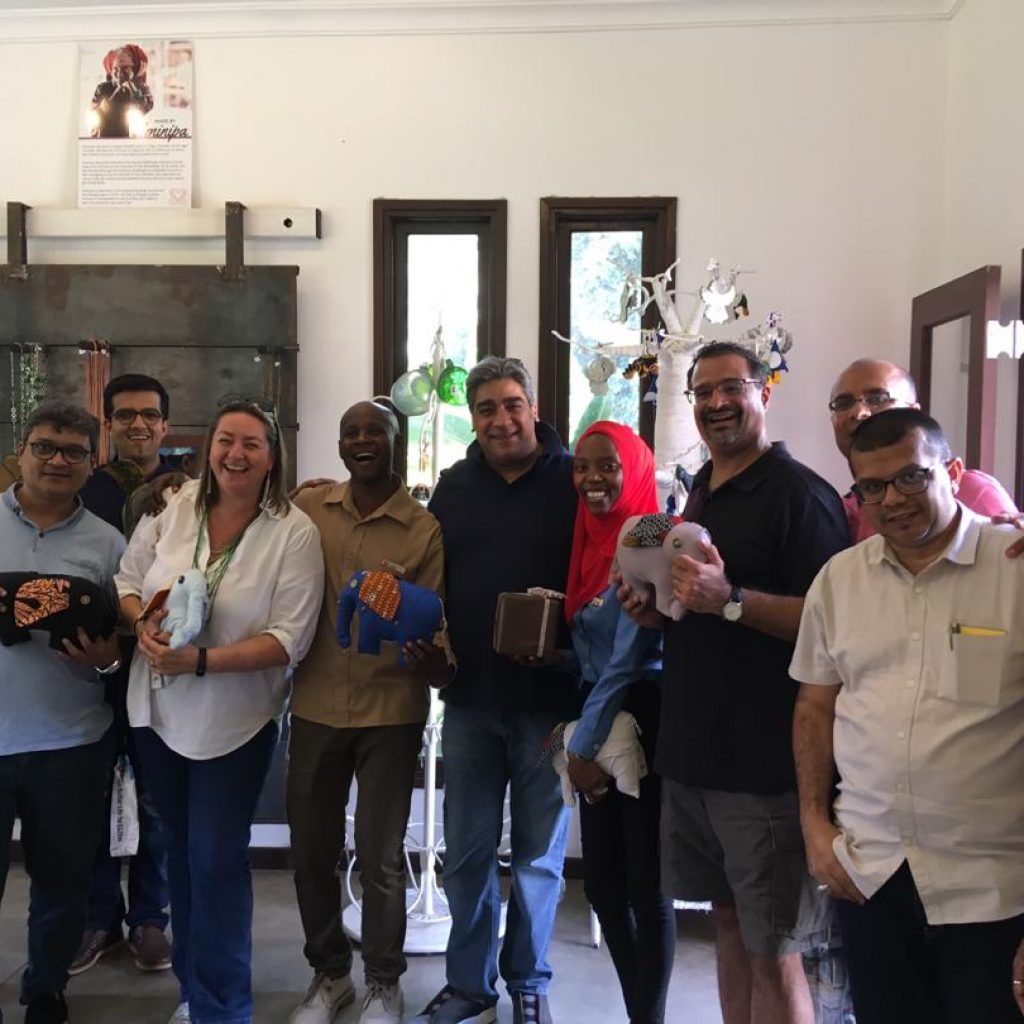 Shanga was delighted to receive a visit from a very special group – our CEO Karim Wissanji accompanied by a group of Kenya's Senior Industrialists and Chief Executives from The Young Presidents Organisation. The Shanga team were thrilled to be hosting the VIPs, and Paul (Senior Shanga Guide) took great delight in leading the group around the workshop, teaching them sign language and assisting them to engage with the staff. The glassblowing was one of the highlights of the visit, with the glassblowing team putting on a great show. Not to be outdone, the beading team also entranced the visitors, demonstrating their nimble work and talking about how they had come to work with Shanga and what benefits they have gained since joining the Shanga family.
The partnership between Shanga and The Elewana Collection has been a great success. Within today's global landscape of climate change and inequality, there is increasing focus on the potential of tourism to provide a sustainable, socially and environmentally stable base for development. Partnerships such as the Shanga-Elewana relationship stand out, as a step in the right direction. Impact investment, where companies commit to supporting social enterprises or community SMEs, does a lot more than simply provide jobs – although that is of course a major benefit. Shanga is a great success, a self-sustaining business which has grown exponentially since the partnership with Elewana, and allowed the generated profits to be reinvested and used for further development and other conservation and community projects. This growth and reinvestment has allowed employment of more people with disabilities; provision of training and skills development for those in the greatest need; better quality of life and improved working conditions. Shanga's message of ability over disability is reaching a wider audience and having a huge impact on local community perceptions, and the ripple effect continues to spread.
It was inspiration for the Shanga team to meet The Young Presidents Organization (Kenya Chapter) and have the chance to show them everything they have been doing. Once in the shop, the group purchased various items with woven blankets and glass elephants flying off the shelves.
The Elewana Collection is proud of Shanga, and of what this partnership continues to achieve. If you are passing through Arusha, make sure you drop in to see for yourself, and you too will leave inspired.
Shanga is situated in the fertile grounds of Elewana Arusha Coffee Lodge, a peaceful sanctuary right on the doorstep of Arusha city that combines the warmth of an African welcome with the familiarity of a boutique hotel. Guests can visit Traders Walk, a collection of 5 on site boutiques including Shanga, run by Tanzanians with disabilities who produce beautiful arts and crafts. There is a Tanzanite Centre and the Soko Giftshop that is stocked with all sorts of wonderful gifts. Finally relax at Kahawa, a Coffee shop with freshly brewed coffee and delicious home-baked cakes.