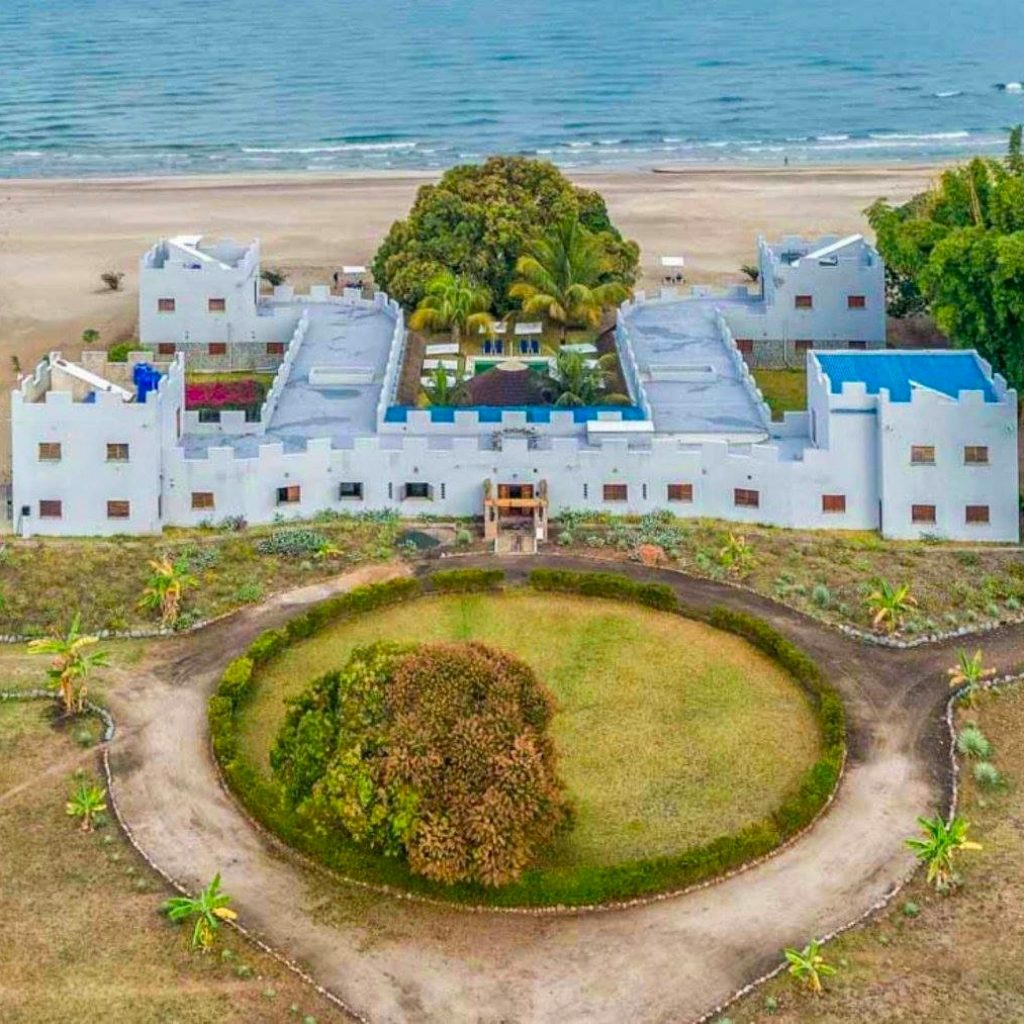 Kachere Kastle, the towering castle situated on the pristine shores of Lake Malawi, enchants guests with its Moroccan-style interior design, courtyard pool, and meals fused with international and local ingredients.
Introducing Kachere Kastle, where tropical vibes, relaxation, and rejuvenation collide to create a magical, getaway. Russ and Kate Smith, the owners from the U.K, opened Kachere Kastle to the public in 2016, but now, three years later, they want to ensure that more people get the chance to experience the unique, luxurious, relaxed vibe that accompanies the Kastle.
Kachere Kastle, in the Nkhata Bay area of Lake Malawi, comes equipped with eight spacious en-suite rooms and four tower suites. Each room has a bathroom with rattan-shelved walk in wardrobe, where guests can happily enjoy hot or cold showers, and safely stow their luggage out of sight. Crisp cotton linen sheets and walk-in mosquito nets ensure rest, amplified by the cool lake breeze flowing through the shuttered windows. Kachere Kastle's room rates are based on two people sharing and include a hearty, fulfilling breakfast.
Guests can enjoy lunch and dinner at Kachere Kastle's restaurant as well. Kachere Kastle's menu comprises a pleasant mixture of locally-sourced (some ingredients are handpicked fresh from Kachere Kastle's garden), and international produce. Feel at home with Kachere Kastle's vast selection of homemade goods baked daily: cookies, bread rolls, oatcakes, brownies, and more. Special dietary requirements can be accommodated if informed upon booking.
Throughout the day, lodge guests can enjoy an array of relaxing or adventurous activities: kayaking Lake Malawi, cycling through local villages, sipping a cocktail at Kachere Kastle's swim-up bar, watching a movie beneath a blanket of stars, playing squash on their full-size court, and more.
Kachere Kastle welcomes campers, too. Campers can enjoy a lovely night facing Lake Malawi amid staggering bamboo trees. The on-site BBQ stations, electrical plug-ins, and separate washrooms help to elevate and ease the total camping experience. Kachere Kastle's campsite can host large groups by a full-booking arrangement.
Kachere Kastle is available for exclusive hire for personal celebrations, gatherings, or corporate events, board meetings and team building. Free WiFi is available throughout the Kastle grounds. Russ and Kate look forward to welcoming you to Kachere Kastle!
Find out more about Kachere Kastle on their dedicated page here.