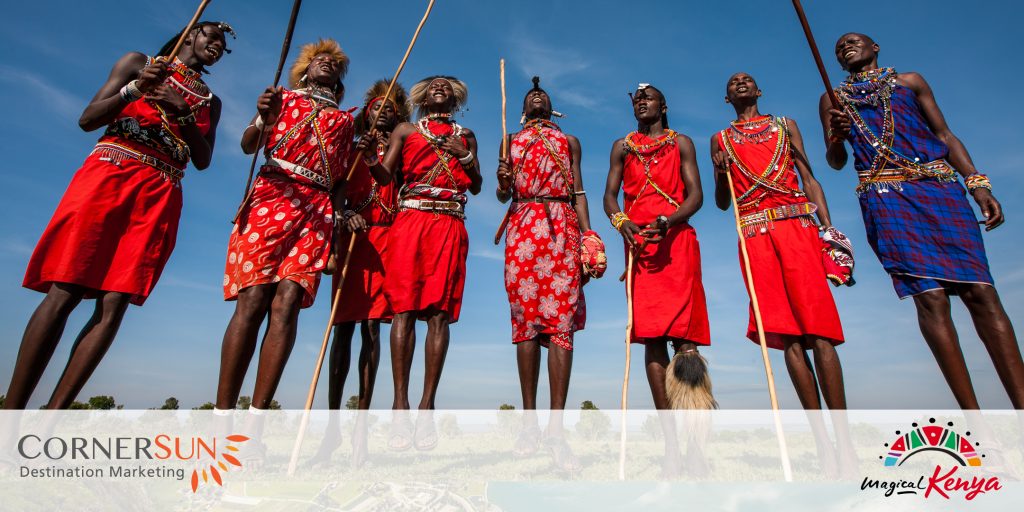 The Magical Kenya Roadshow will be coming to Los Angeles, San Francisco and Seattle next week. Tour operators and travel advisors with an interest in selling Kenya are encouraged to participate in the half day programs that will include 18 suppliers traveling to the US from Kenya.
Los Angeles – Monday 24 February 10am-2pm @ Kimpton Everly Hollywood – Register Here
San Francisco – Tuesday 25 February 2pm-6pm @ Le Méridien San Francisco – Register Here
Seattle – Thursday 27 February 10am-2pm @ Kimpton Alexis Hotel – Register Here
Space for these events will be limited so if you are interested in attending, it is recommended you register now using the above links.
Participating Suppliers:
African Trotter Expeditions

 

– At African Trotter we specialize in tailor made experiences throughout Kenya, and offer an exclusive, personalized and unsurpassed service. Having first- hand knowledge of our destination ensures that our team of specialists work with you hand in hand picking the most suitable accommodation and experiences and put together an unforgettable trip.
Ashnil Hotels

 

– Three beautiful Camps and Lodges located in some of the best game viewing locations in Kenya's world famous National Parks and Reserves. Each of the properties has its own unique feel, unparalleled levels of comfort, service and most importantly offer amazing opportunities to view the local wildlife, culture and landscapes.
Elewana Collection

 

– The Elewana Collection of 16 boutique lodges, camps and hotels is known for its unique accommodations in iconic locations across Kenya and Tanzania. Elewana crafts authentic and memorable safari experiences, providing the highest quality of luxury and comfort. Warm and genuine East African hospitality characterises a safari with Elewana, where guests are indulged with a luxurious and personalised stay.
Four Points by Sheraton

 

– Four points by Sheraton Nairobi Airport is a stylish four-star hotel located in JKIA complex. The hotel has 172 guest rooms in 4 categories, 3 food and beverage outlets open to the general public, a heated rooftop swimming pool and health club, conference facilities and adequate parking space.
Heritage Hotels

 

– Kenya's best-known and most hospitable 'safari host', Heritage Hotels offers seven properties in three different brands: Voyager camp and beach resort in Tsavo and Mombasa; the famous Intrepids camps in Samburu and the Maasai Mara, and Kenya's and Africa's Best Golf Hotel (2016) in Naivasha, the Great Rift Valley Lodge; and the five-star Mara Explorer camp and island hideaway of Kipungani in Lamu.
Holiday Bazaar

 

– Holiday Bazaar focuses on Destination Management in East Africa and combination packages to the Indian Ocean Islands offering varied travel related solutions for leisure and corporate travel. Our dream is to expose you… to an East Africa we know and love!
Homestay Experience Limited

 

–
Incentive Travel Limited

 

– IncentiveTravel has over 10 years of experience operating authentic and unique adventure holidays with a genuine focus on the paths less travelled. We are the pioneers in designing groundbreaking itineraries and many say our trips start where others end. As the leaders in responsible travel, we offer big adventures with a small environmental footprint.
Kenya Tourism Board – The vision of the Kenya Tourism Board is to be the preferred long haul destination in Africa, for high yield tourists, offering a diversity of authentic experiences by friendly people in a preserved environment.
Kenya Wildlife Service

 

– A Kenyan state corporation that was established in 1989 to conserve and manage Kenya's wildlife. It is established under an Act of Parliament Cap 376 with the mandate to conserve and manage wildlife in Kenya, and to enforce related laws and regulations
Lake Bogoria Spa & Resort

 

– Set in an acacia grove in the Great Rift Valley 2km to Bogoria National Reserve. It's the only resort in Kenya with a naturally heated pool known as the "healing place" for therapeutic qualities and is home to over 373 species of birds among millions of flamingoes and hot springs.
Nahdy Travel & Tours

 

– One of the most well established tour operators Limited in Kenya. With a full-fledged operation and offices in Nairobi, Mombasa and Arusha. We pride ourselves with multilingual staff and driver-guides; well equipped safari minibuses and 4WD vehicles fitted with high frequency radio calls to ensure that the driver is in constant communication with the head office in Nairobi.
Nakuru County Government

 

– Major attractions in the county are Lake Nakuru National Park, Lake Naivasha, Hell's Gate National Park and Menengai Crater. Lake Nakuru National Park hosts among other wildlife the big five; lion, rhino, leopard, buffalo and elephant.
Ol Tukai Lodge

 

– Ol Tukai Lodge is one of the best spots in the world to watch elephant with the backdrop of Africa's highest mountain, Mount Kilimanjaro. Writers have described Ol Tukai and the surrounding Amboseli National Park 'as a home for the gods'
Private Collection Limited

 

– An exclusive, privately owned group of luxury boutique hotels and lodges in Kenya's most amazing destinations. Our promise is elegance, simplicity and supreme service. We are a luxury group – but not a chain; which means that each Private Collection destination offers discerning guests a wholly authentic expression of its locality.
Samburu County Government

 

– Samburu County is the northerly gem globally reputed and associated with Born Free film, Camel racing,breathtaking  tourism sites, colourful cultures among other attractions.
Sawa Sawa Africa

 

– SSA is a world-renowned Destination Management Company based in East Africa, with operations in Kenya, Tanzania, Uganda, Rwanda, and the recent addition of Victoria Falls. Our humble beginnings are entrenched in the hub of East Africa, Kenya, from which we have grown to add a new office in Tanzania for seamless operations.
Silverbird Travel Plus

 

– Silverbird travel plus limited is a reputable tour and travel company based in Nairobi with a branch office in Arusha Tanzania plus has built reputation for reliable dependable and value added services.
Southern Cross Safaris

 

– Since 1957, Southern Cross Safaris has built a reputation as one East Africa's premier safari tour operators. The company is an owner-run destination management company (DMC) operating from a head office in Nairobi, with regional offices in Mombasa, Arusha and the spice Island of Zanzibar and an international office in the United Kingdom.
If you have any questions please contact David DiGregorio at CornerSun Destination Marketing.