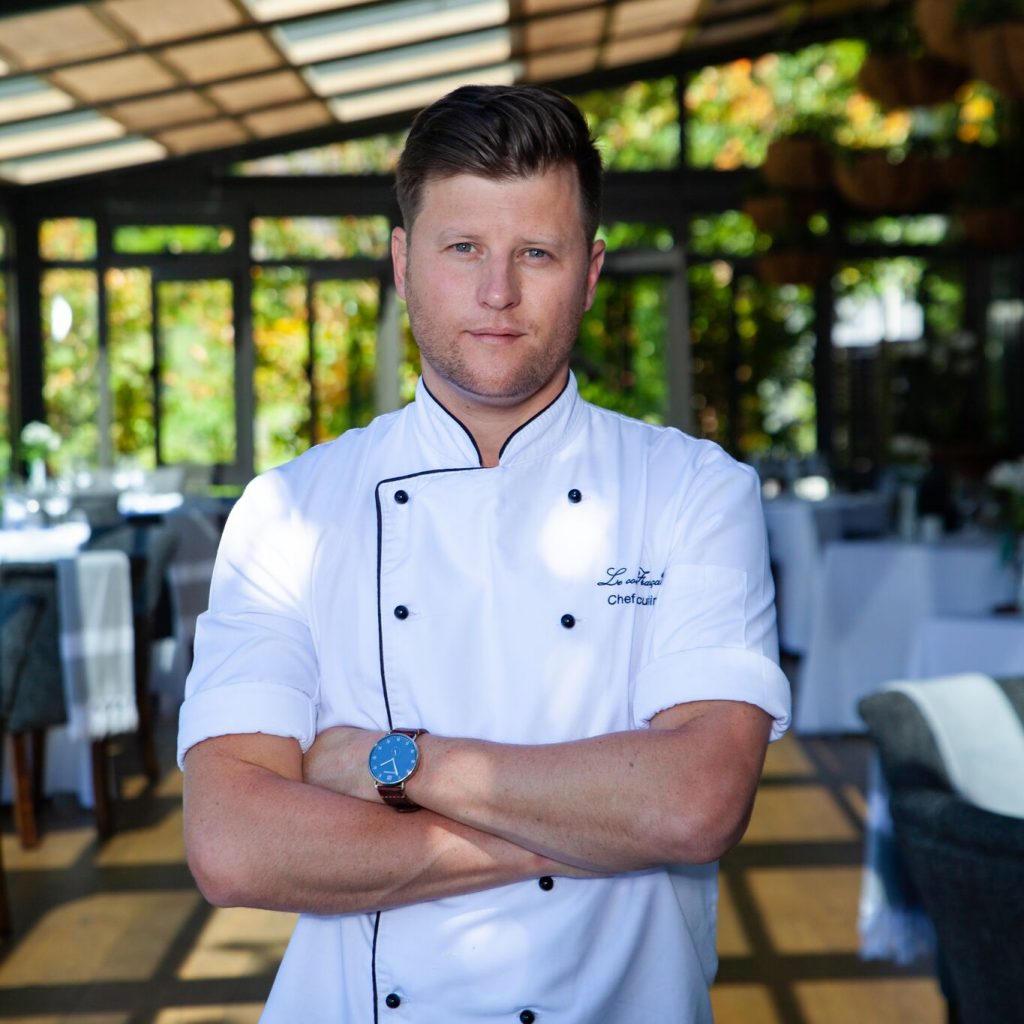 Head Chef, Darren Badenhorst of Le chêne at Leeu Estates, provides us with this classic, homely Boeuf Bourguignon recipe.
This dish is one not to be rushed, perfect to while away lazy afternoons as, in South Africa, we ease into the crisper autumn days.
Chef Darren suggests pairing this dish with the Leeu Passant dry red; a beautifully refined and elegant wine from the Mullineux and Leeu Family Wines Team (click here for more information – https://mlfwines.com/leeupassant/our-wines/).
Traditional Boeuf Bourguignon
Serves 6
Prep time 1 hour
Cooking time 4-5 hours
Ingredients
250g Thick cut smokey bacon- cube
3 and half tablespoons extra-virgin olive oil
1.25kgs Beef cheek, trimmed and cut into in equal size quarters
2 large carrots, sliced
1 large white onion, cut into fine dice
1 pinch coarse salt and freshly ground pepper
2 tablespoons all-purpose flour
3 cups red wine
750ml beef stock
2 tablespoons tomato paste
3 cloves smashed garlic
2 teaspoons picked thyme
2 bay leaves
12-18 small pearl onions
100g butter
1 herb bouquet (4 sprigs parsley, 4 sprigs thyme, 2 sprigs rosemary)
500g fresh button mushrooms, quartered
50g fine chopped parsley
Method
1) Preheat oven to 160°c. In a large Dutch oven, sauté the bacon in 1 tablespoon of oil for about 3 minutes, until it starts to lightly brown. Remove with a slotted spoon and set aside.
2) Dry the beef with a few paper towels for better browning. In batches, sear the beef well on all sides in the Dutch oven. Set aside with the bacon
3) Back in the pot, add the sliced carrots and onions; sauté in fat until browned, about 3 minutes. If there's any excess fat, drain it now.
4) Add the bacon and beef back to the pot. Season with 1/2 teaspoon coarse salt and 1/4 teaspoon ground pepper. Toss. Sprinkle with flour and toss once more.
5) To the pot, add the tomato paste and garlic and cook off for 2 mins, then add the wine, deglaze the cooking liquid well then and stock and the herb bouquet. The liquid should barely cover the meat and vegetables. Bring to a light simmer on the stove, then cover and simmer in the lower part of the oven for 3 to 4 hours, or until the meat is easily pierced.
6) In the last hour of cooking, bring 50g butter and 2 teaspoons oil to a medium heat in a sauté pan. Add the pearl onions and toss around in the fat until they've browned, around 10 minutes. Then stir in 1/2 cup beef stock, a small pinch of salt and pepper. Reduce the heat to low and simmer the onions for about 40 minutes, until the liquid has evaporated, and the onions are tender.
7) Remove the onions and set aside. Discard the bay leaves and wipe out the skillet. Add the remaining butter and oil and bring to a medium heat.
8) Add the mushrooms and cook for about 5 minutes, shaking the pan to coat with the butter and thyme.
9) Place a colander over a large pot. Drain the beef stew through the colander and into the pot. Place the pot with the sauce over a medium heat and simmer for about 5 minutes, skimming any fat on top then fold chopped parsley through. Pour the beef and vegetables back into the Dutch oven. Add the pearl onions and mushrooms to the pot. Pour the sauce over the beef mix and simmer an additional 3 to 5 minutes to combine till desired consistency and seasoning.
Best served with smooth mashed potatoes, lightly toasted French baguette or rice.
At Le chene, multiple award-winning Chef Darren, takes diners on a journey through his interpretations of nostalgic food memories encompassing "art on a plate" and leading them through a unique culinary exploration of flavours, textures and interactive creations.
We would love to see your interpretation of the above in how you plate your own Boeuf Bourguignon, so be sure to tag us on social media @leeucollection @leeuestates #liveleeu