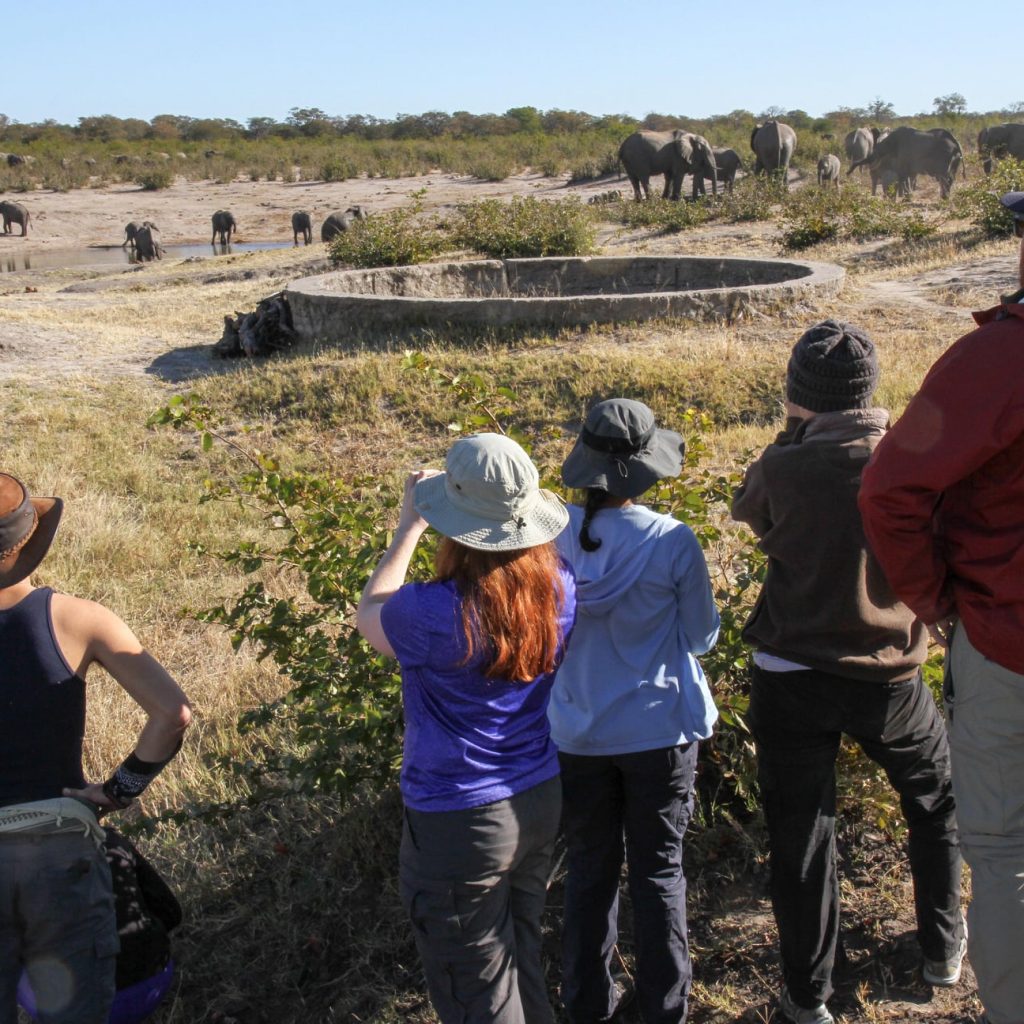 Imvelo Safari Lodges invites young adults to experience one of the largest community-based conservation partnerships in Zimbabwe in a special conservation course to be held twice in 2022: May 19-27, 2022 and June 23 – July 1, 2022. Participants will be accommodated at Imvelo's Camelthorn Lodge in Hwange National Park, the largest and most diverse national park in Zimbabwe. Each course will be led by senior management, Zimbabwean professional guides and licensed local guides who will act as group leaders.
This short course will focus on community-based tourism and conservation. A sample of daily activities include:
Spending time with the Cobras Community Wildlife Protection Unit – experience the activities and hear about the goals of this unique initiative
Learn about fauna, flora and conservation practices hands-on in the field
Get an introduction to guiding from Imvelo's local guides – some of Zimbabwe's best
Learn to prepare meals such as Zimbabwe's staple foods or traditional braais over an open fire
Learn about wildlife management and research – such as monitoring key species and managing human/wildlife conflict
This is a once-in-a-lifetime opportunity for young adults to explore Hwange National Park, its wildlife and Imvelo's successful community and conservation projects in a unique and intimate way at an unbeatable price.
Pricing starts from USD $2,600 per person nett aged 17-25 for an 8-night stay either May 19-27, 2022 or June 23 – July 1, 2022 Includes shared accommodation, three meals daily, non-alcoholic drinks, wifi, laundry, park fees, transfers to and from Victoria Falls airport, participation in the course and one game viewing activity daily. To be part of this incredible course, full payment must be made by February 28, 2022. Contact hayley@imvelosafarilodges.com for full details on pricing, exclusions and terms & conditions.
Imvelo Safari Lodges operates four lodges and camps in and adjacent to Hwange National Park in Zimbabwe – Bomani Tented Lodge, Camelthorn Lodge, Nehimba Lodge and Jozibanini Camp. One of Imvelo's lodges is built on a community conservancy bordering the national park on land belonging to local villages. This leads to a smaller environmental footprint in the park and provides a powerful economic benefit for local communities as well as an incentive to protect wildlife.  Guests who stay at these unique, owner-run lodges enjoy incomparable wildlife and photographic safaris with highly experienced guides, guided game walks, spectacular views and surroundings, adrenaline packed activities, luxurious accommodation, and thoughtful and attentive staff.