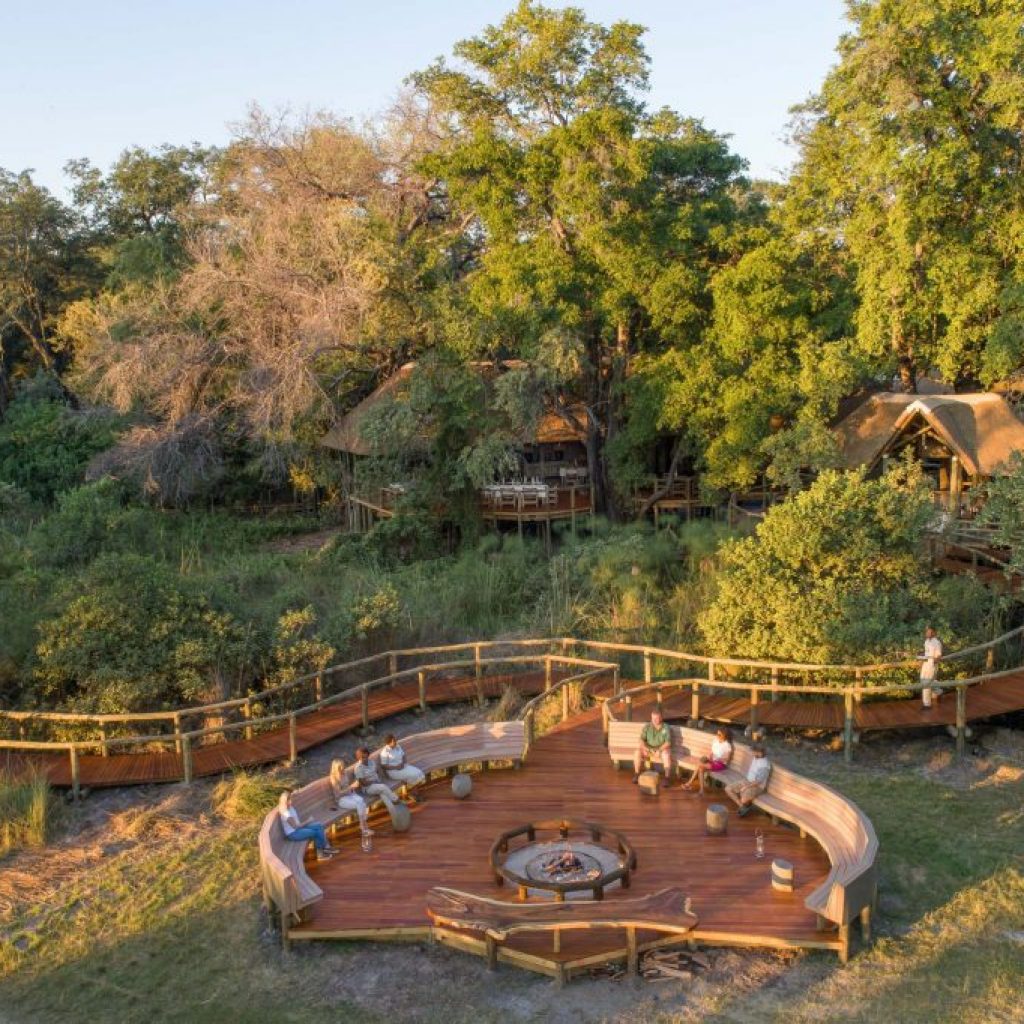 The new Camp Moremi officially opened after completion of a full rebuild. After closing late last year, the camp welcomed their first guests with every room booked for the first full day of operation on the 1st May 2018.
The new Camp Moremi is a breathtaking design made up of extensive public areas raised within the huge ebony trees that have characterized the property for over 35 years. The layout of the expansive thatched tents are uniquely designed around the existing vegetation to make the most of the surrounding bush and minimize the impact on the environment.
Upon arrival at camp, guests enter the lodge along an ascending walkway, which leads up towards the main public areas which include a beautiful bar area carefully built around a huge termite mound and ebony tree, a large lounge area with beautiful chrome and soft finishes, leading towards an extended library and private deck, perfect for special dinner occasions. To the right of the sunken bar that overlooks the Xakanaxa Lagoon, is the dining area which connects by boardwalk to the open sky fireplace. Another new addition to Camp Moremi is an open air dining area, which has its own fireplace and boma area for starlit private dining.  A secluded decked swimming pool complements the public area facilities.
The large new tented rooms have thatched roofs with spacious bathrooms consisting of double vanities and showers, each with private views over the Moremi Game Reserve. The lounge connects to each room's individual relaxation deck to create a beautiful space to soak up the environment. Subtle natural décor and lighting fixtures allow for a natural and warm atmosphere within each room. Camp Moremi has twelve standard rooms including one family room. The family room is double the size of a standard room, it inter-leads and each room has its own separate bathroom and relaxtion viewing deck. One of the rooms is accessible to the public area via an elevated walkway to facilitate the comfort and ease for guests with mobility challenges.
The original Camp Moremi opened in 1982, a sister property of the renowned Camp Okavango. The two properties heralded the birth of Desert & Delta Safaris and for many years complimented each other as part of a wonderful Okavango Delta safari experience. Camp Okavango was rebuilt and opened in April 2016 making a combination with the two newly built camps an idyllic and perfect safari experience for current and future travelers to Botswana.
Camp Moremi is common rated with and fits perfectly into the existing Desert & Delta Safaris circuit of properties which include, Camp Okavango, Xugana Island Lodge, Savute Safari Lodge, Leroo La Tau as well as Chobe Game Lodge.
Contact marketing@desertdelta.com or africa@andreahugo.com for more information.