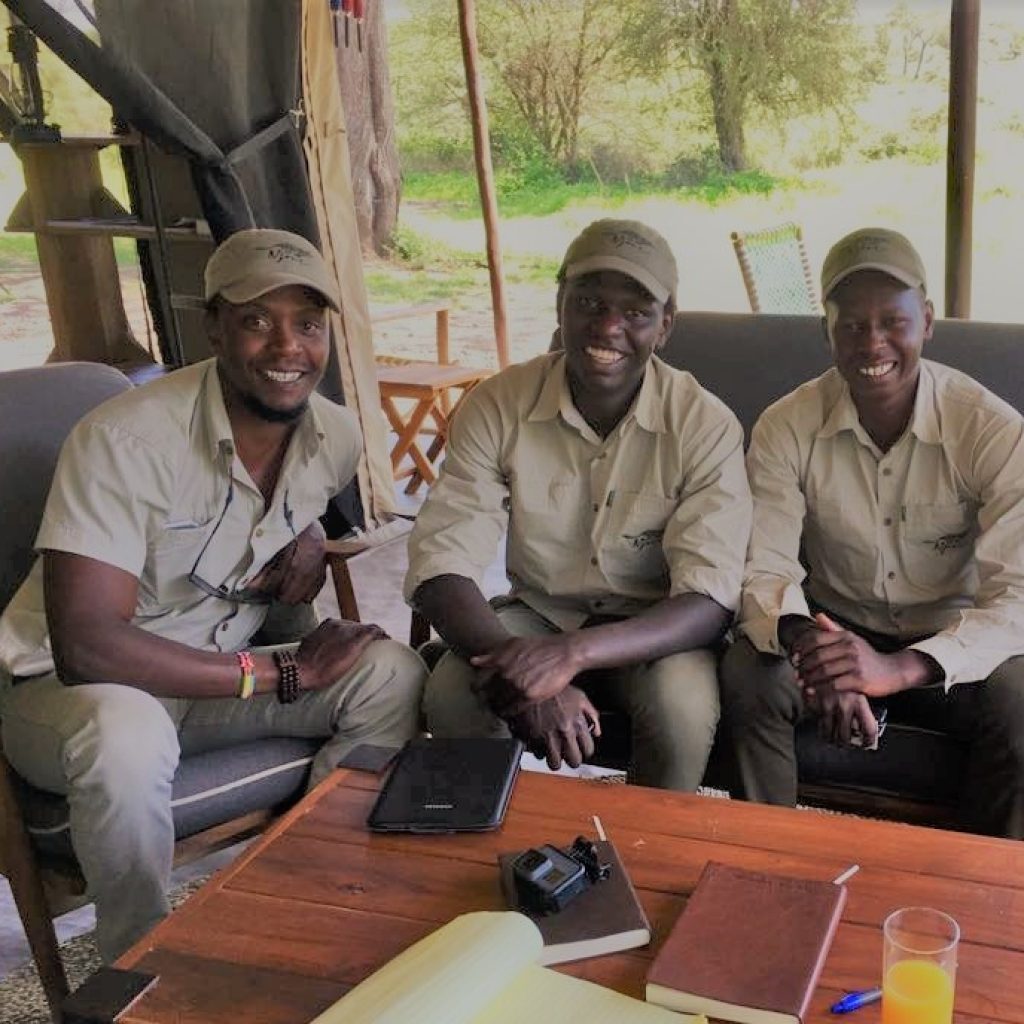 TANZANIA – May 8, 2019 – Njozi Camp debuted all new canvas for the calving season and is now on the move to our new location near the Mara River for the crossing season.  Njozi is a guide-owned and operated camp catering to wildlife enthusiasts.  The camp serves as a fieldwork base to develop young Tanzanian wildlife biologists. These biologists gain experience as they conduct original big cat research, and the guest experience is special as the biologist team rotates to join interested Njozi guests on game drives.
Guests have a unique opportunity to engage and learn as they are welcome to assist with recording observational data on a tablet-based app. The wildlife biologist program has trained four researchers to date, all of whom have an unsurpassed level of knowledge about the Ndutu and Northern Serengeti big cats.
Traditionally most wildlife research in Africa has been done by foreign researchers.  The team behind Njozi Camp saw a need to contribute to the development of local capacity in this critical field.  A stay at Njozi camp assists in creating wildlife biologist jobs, helping to develop biologists' field skills but also critical interpersonal skills as they share conservation biology with international guests.  The Njozi Camp research team is collecting long-term monitoring data on big cats that can assist with conservation management.  In exchange, guests receive a much deeper wildlife safari experience than the typical safari and can depart knowing they've assisted in empowering Tanzanian wildlife biologists that are needed to conserve this magnificent heritage far into the future.
Njozi Camp is for the serious wildlife enthusiast:  "A niche provider for those that want a deeper wildlife experience in a market dominated by mainstream providers," said one guest.
The completely new camp launched in December includes six guest tents, plus a two-bedroom family tent, dining tent with lounge and veranda area, "Bila Shaka" mobile bar cart and campfire area.  The camp has an extensive solar system for in-room charging and WiFi is available.
From December through April, Njozi is located in the Ndutu area within the Ngorongoro Conservation Area side to allow for off-road game drives, ideally located for the migration calving and exceptional big cats. From June through October, the camp moves to Kogatende, Northern Serengeti for the dramatic Mara River crossings.
Rates are all-inclusive with meals, drinks, laundry, and the Njozi Big Cat Researchers can join a game drive of any ground operation booking Njozi Camp on Full Board basis (it is not necessary to be on game package or with an Njozi Guide to benefit from the Biologist team).
For more information, contact info@njozicamp.com
###