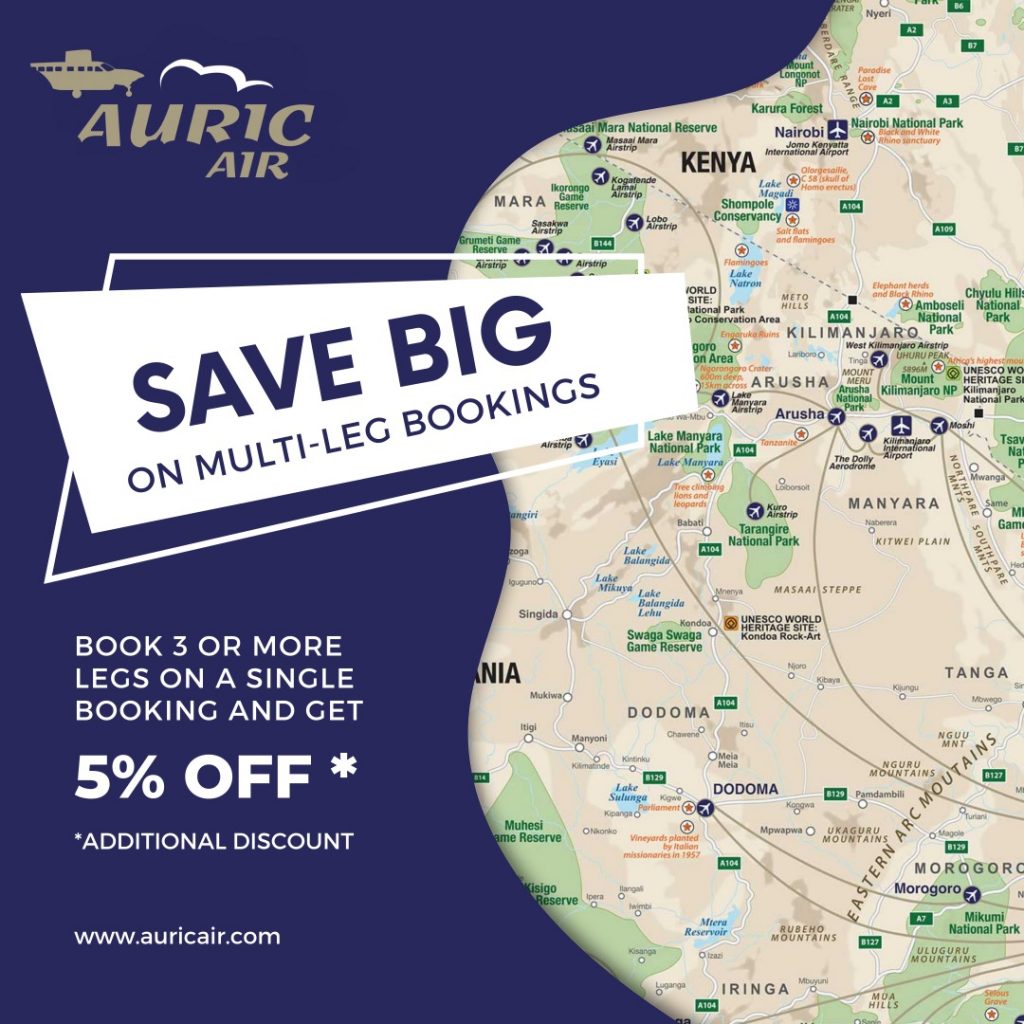 EXPLORE MORE, SAVE TIME, SAVE MONEYMORE
Auric Air Services introduces discounts on Multi-Leg flight bookings, fly more and save big!
Driving from Kogatende in the North of Serengeti to Seronera in central Serengeti can take a full day of your otherwise game viewing time, this journey can be accomplished by a short 20 minutes hop on-board the Auric Air Services aircraft all the while giving you a discount on your ENTIRE TRIP. Long hours on road can take up precious holiday hours that could otherwise be spent enjoying the vacation.
Book 3 or more legs on a single booking and automatically become eligible to MULTI LEG DISCOUNT on your entire booking.
Discount on Circuit Fare is applicable for all NEW Bookings. Bookings made from 25th November 2021
Circuit Fare is applicable only on Multi-Leg bookings. ONE PNR with minimum 3 Sectors.
4. Circuit Fares applicable discount is 5% additional discount on agent STO rate
For example, if your discount structure is 10% for each leg, the system will automatically override and allocate a 15% discount on the retail rate (rack rate)
5. Circuit Fare is calculated for direct fares only (and not through/connection fares)
Example, 
SERONERA to ARUSHA is a "Direct Fare"
ARUSHA to ZANZIBAR is "Direct Fare"
However, if booked SERONERA to ZANZIBAR which is a "Connection Fare"  (i.e. 2 flights numbers SEU to ARK, ARK to ZNZ) only 1 leg will be calculate
For more information, write to us at info@auricair.com