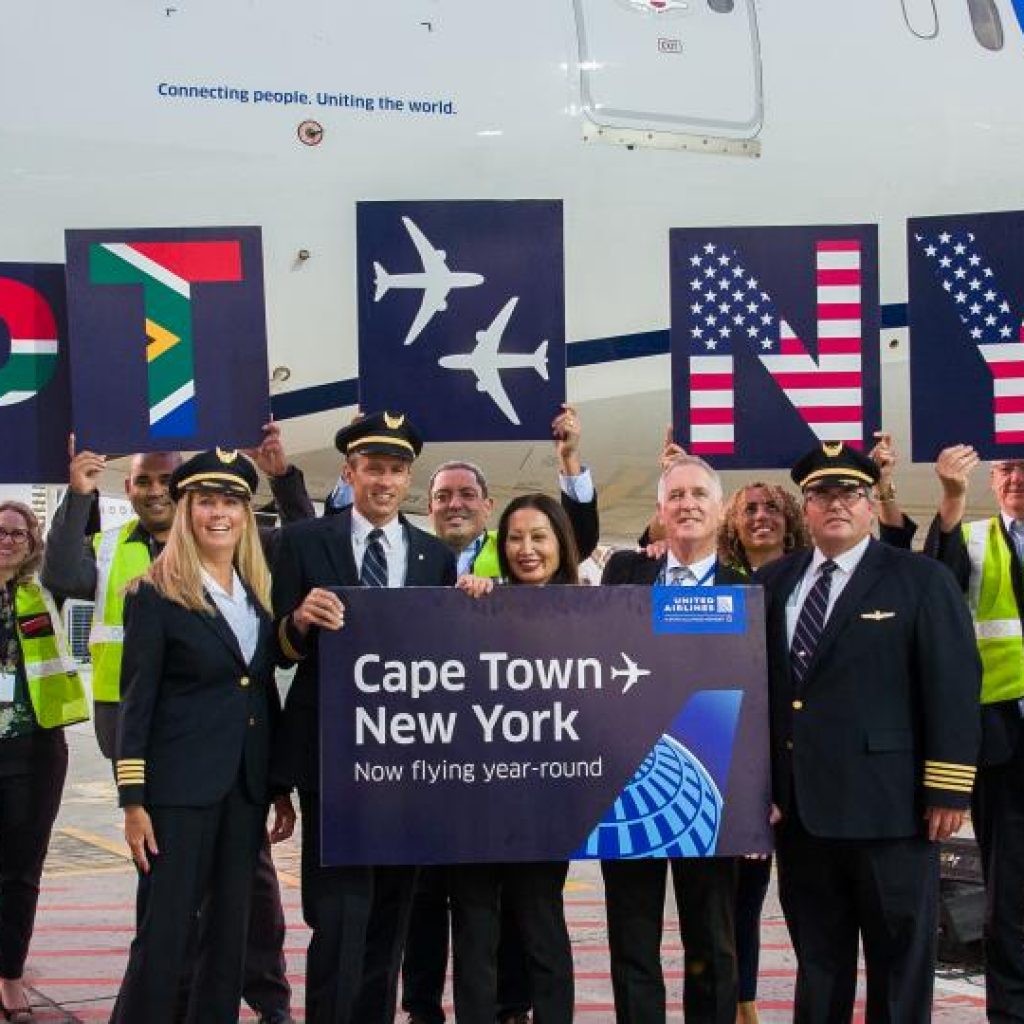 The new, year-round flight from United Airlines to Cape Town supports economic recovery in the Western Cape and will provide much-needed relief to the tourism and hospitality sector in the province, with the New York/Newark-Cape Town route expected to generate R523 million (€31.8m) worth of direct tourism spend within its first year of operation (June 2022-May 2023).
This was highlighted by City of Cape Town and Western Cape government officials who welcomed the inaugural flight at Cape Town International Airport yesterday (June 6). Representatives from Airports Company South Africa and United Airlines, Wesgro's Air Access team, United Airlines' cabin crew, as well as the CTT Penguins – all joined in to celebrate the start of the year-round route.
Three non-stop flights per week will operate year-round, between Cape Town International Airport and United's New York hub.
The US has historically been Cape Town's third-largest international market, with two-way passenger volumes between the US and Cape Town amounting to 213 000 passengers in 2019.
In addition:
The United States was Cape Town's fifth-largest international market in 2021 based on two-way passenger volumes
Two-way passenger volumes for the first quarter of 2022 exceeded 27 000, which was a 51% recovery when compared with the same quarter in 2019
Two-way international business-class passengers displayed a recovery of 65% for the first quarter of 2022 when compared with the same period in 2019
Based on previous route introductions, it is estimated that a new direct service results in a passenger stimulus of at least 25% for Cape Town.
Western Cape Minister of Finance and Economic Opportunities, Mireille Wenger, commented: "The expansion of the current service by United Airlines, from seasonal flights to an all-year-round service which includes three flights per week direct from New York/Newark-Cape Town, is more great news for the Western Cape. There is clearly a surge in demand for flights to Cape Town as a global travel destination. This points to signs of recovery and rebound in the tourism and hospitality sector."
She said the provincial government was working on clearing obstacles to increase connections to the Western Cape, which will bring a host of positive contributions to the economy and job creation. "At the end of the day, more flights mean more tourists, and more tourists mean more jobs in the Western Cape," said Wenger.
Mayor of Cape Town, Geordin-Hill Lewis, said: "It is no mistake that an increasing number of international airlines have confidence in Cape Town. For years, through our Cape Town Air Access programme, in partnership with Wesgro, we have been hard at work to bring more direct international flights to Cape Town through supporting airlines with the regulatory and business tools they need."
He said the Air Access example illustrated that a focus on careful, economy-focused planning, as well as a view of government as a facilitator of private-sector-led growth, could reap substantial reward for local economies.
"Latest research indicates that this year, more than two-thirds of Americans (68%) are planning to go big on their next trip, and nearly a third plan to visit a bucket-list destination, which means that we can expect a high proportion of leisure travellers on this New York/Newark-Cape Town route."
"We also expect the impact of this continuous service to reach beyond tourism, and impact positively into a variety of other sectors while also offering the added benefits of belly-freight cargo. We wish to thank United Airlines for their continued commitment to Cape Town and the Western Cape," added Wesgro CEO and the Official Spokesperson for Air Access, Wrenelle Stander.
More connections to and from the US
In addition to connecting Cape Town and South Africa's Western Cape with the greater New York/New Jersey region, the new schedule provides customers flying from Cape Town with easy and convenient connections, through United's New York/Newark hub to more than 85 US cities, including Chicago, Houston, Washington D.C. and Los Angeles.
United's codeshare partnership with South Africa-based independent airline,  Airlink,  also provides additional travel options for customers travelling from other Southern African destinations connecting on to United's non-stop long-haul services to and from the US.
"In addition to putting the US within easy reach of the Western Cape, our service makes it easy for US travellers to reach Cape Town, consistently ranked among the world's top travel destinations," said Bob Schumacher, United Regional Director Sales. "The expansion of this service offers our business and leisure customers in South Africa and in neighbouring markets, greater choice and significantly reduced travel times."
"Welcome back United Airlines. We are pleased to welcome the United team and passengers back to Cape Town International Airport earlier than originally scheduled and we look forward to the year-round service," said Mark MacLean Acsa's Regional General Manager Cape Town International Airport Cluster. "Travellers continue to be offered a growing number of international destinations from Cape Town and we are particularly pleased that more airlines are choosing to operate throughout the year."