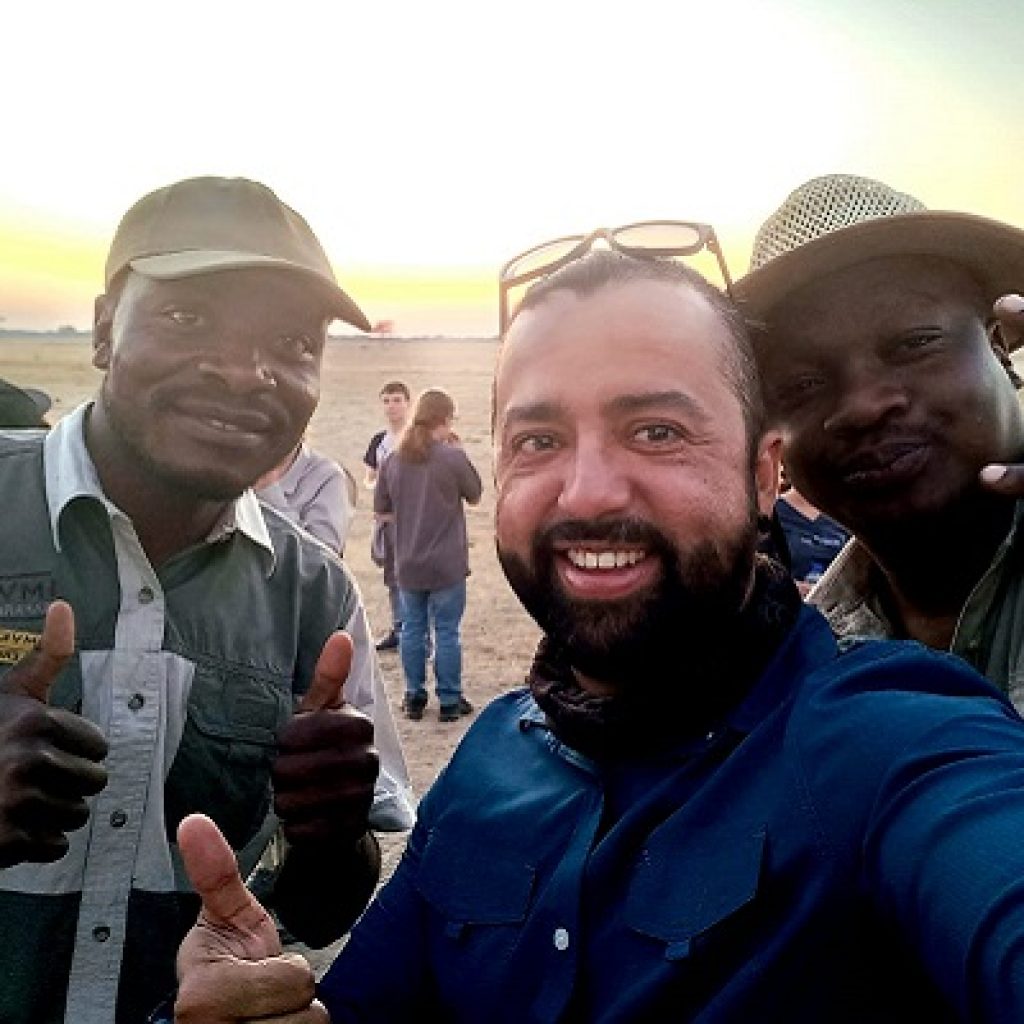 A unique idea was born when Bryan and Sergio Jauregui of leading Baja California Sur, Mexico eco-adventure company Todos Santos Eco Adventures (TOSEA), embarked on a grand adventure throughout Africa in August 2018, including visiting Imvelo Safari Lodges in Zimbabwe. It wasn't too long after their safari that TOSEA's Chef Iker Algorri from Los Colibris Casitas in Todos Santos, Baja California Sur made a guest appearance at Imvelo's lodges for a cross-cultural culinary exchange! 
Those trips were the genesis for something bigger – an innovative guide exchange program. Starting with the 2019/2020 season, TOSEA created a guide competition with the winner earning the chance to spend two weeks at Imvelo's camps working and enjoying time on safari, with Imvelo and eventually other Kusini Collection partners in turn sending their guides to Baja California Sur for a reciprocal experience. 
After winning the inaugural competition in 2020, top TOSEA guide Manuel Rodriguez waited out the pandemic for his chance to visit Zimbabwe to experience the ins and outs of the guiding life in the African bush. The trip proved to be transformational with an open and joyful exchange of ideas between Imvelo's guides and Manuel, as well as a range of new cultural  and wilderness experiences well outside his comfort/familiar/knowledge zone from Baja California Sur.
Manuel was thrilled to see cheetahs, hippos, giraffes, zebra, lions and many more thrilling African wildlife species. One major highlight for him was seeing elephants up close from Imvelo's special 'look-up blinds.' Having the pandemic delay Manuel's safari ended up being quite fortuitous – he was among the first people to spend time with Imvelo's white rhinos, which were translocated across Zimbabwe during 2022 in a triumphant effort to restore them to their historic range in Hwange National Park.
The next cross-global guide exchange will originate from the fragile wilderness of Namibia as top Ultimate Safaris guide Johann Cloete is embarking on the journey of a lifetime to Baja California Sur with TOSEA. Johann will be trading elephants for whales, rhinos for sea turtles and desert dunes for long beaches and wild surf. Ultimate Safaris is excited to be investing in a once-in-a-lifetime experience for one of its most experienced team members.
Todos Santos Eco Adventures, Imvelo Safari Lodges and Ultimate Safaris, all members of The Kusini Collection, are united by a passion to preserve and protect their delicate environments while maximizing the social and economic benefits of luxury travel for their local communities and providing an unforgettable experience for guests. The guide exchange program created by TOSEA is just one of the ways in which these sustainable travel operators invest in their people, a key commitment that matured during the pandemic challenges of the past few years. 
Johann has been working as a guide for 18 years on overland safaris and at lodges in Botswana and the eastern Cape as well as in Namibia but has never been out of Africa – until now. He was chosen by his fellow staff members after a rigorous appraisal process to decide who would take up this inspiring opportunity. 
Johann will have the chance to explore another world, with its special ecosystem and some of the most spectacular marine life viewing destinations on the planet. Whales, dolphins, whale sharks, sea turtles, manta rays, and plenty of beautiful tropical fish call the waters surrounding Baja California Sur home, while a vast array of bird species including blue-footed boobies, reddish egrets, great blue herons and yellow-footed gulls frequent the skies and shores. 
"I was thrilled to be picked," commented Johann. "I could hardly believe it. This is an amazing chance to see how other dedicated conservation teams around the world work and to live in a completely different environment. I don't experience marine life at the moment but I'm sure we will be able to learn from each other and discuss how we deal with all our challenges and celebrate our triumphs. I will have a lot to bring back to share!"
Tristan Cowley, co-founder and Managing Director of Ultimate Safaris works closely with local communities to develop conservation and protection initiatives commented "The guide swap initiative is a great opportunity for interaction and learning between people on different sides of the world who may have differing geographies, wildlife, and weather, but who share the same dedication to conservation and preservation. Providing this great opportunity for a key team member like Johann to gain insights and knowledge from a widely divergent society is a great way to expand his personal horizons and to motivate other members of the team to excel. We take pride in giving our guests an epic adventure when they come on safari with us, so it is great to be able to do the same for Johann."
The winner of the current TOSEA guide competition will be the next to cross the globe in May 2023, spending two weeks in Namibia with Ultimate Safaris. 
For more information, please contact The Kusini Collection at info@kusinicollection.com. 
Todos Santos Eco Adventures (TOSEA) is a privately owned, eco-minded tour operator with a dozen years of experience introducing travelers to the myriad facets of Baja California Sur. TOSEA's attention to each client is personal and unmatched. The owners/operators, Bryan and Sergio Jauregui, with support of a highly qualified team, specialize in individual, family, and group adventures that exceed expectations every time. 
Imvelo Safari Lodges operates four lodges and camps in and adjacent to Hwange National Park in Zimbabwe – Bomani Tented Lodge, Camelthorn Lodge, Nehimba Lodge and Jozibanini Camp. Camelthorn Lodge is built on a community conservancy bordering the national park on land belonging to local villages. This leads to a smaller environmental footprint in the park and provides a powerful economic benefit for local communities as well as an incentive to protect wildlife. This includes Imvelo's new Community Rhino Conservation Initiative (CRCI), which has successfully reintroduced rhino to Hwange National Park in a highly secure and sustainable way, placing local communities at the heart of conservation efforts and engaging them as rhino custodians so they may benefit directly from the Initiative. Guests who stay at these unique, owner-run lodges enjoy incomparable wildlife and photographic safaris with highly experienced guides, guided game walks, spectacular views and surroundings, adrenaline-packed activities, luxurious accommodation, and thoughtful and attentive staff.
Ultimate Safaris is a multi-award-winning specialist in organizing and operating well-orchestrated, privately guided, naturalist safaris for individuals as well as for small and intimate groups and boasts one of the most experienced, creative, and respected names in the Namibian safari industry. Their driving force is a carefully selected team of experts who are passionate about all aspects of Namibia and who understand the importance of seamless guest services. Ultimate Safaris employs the best naturalist guides and Journeysmiths, all of whom live and work in Namibia; and offers the finest portfolio of lodges, hotels, and camps; and operates a state-of-the-art fleet of specialized safari vehicles, ensuring an unequalled level of personal attention while maintaining the highest standards when planning and organizing Namibian safaris.