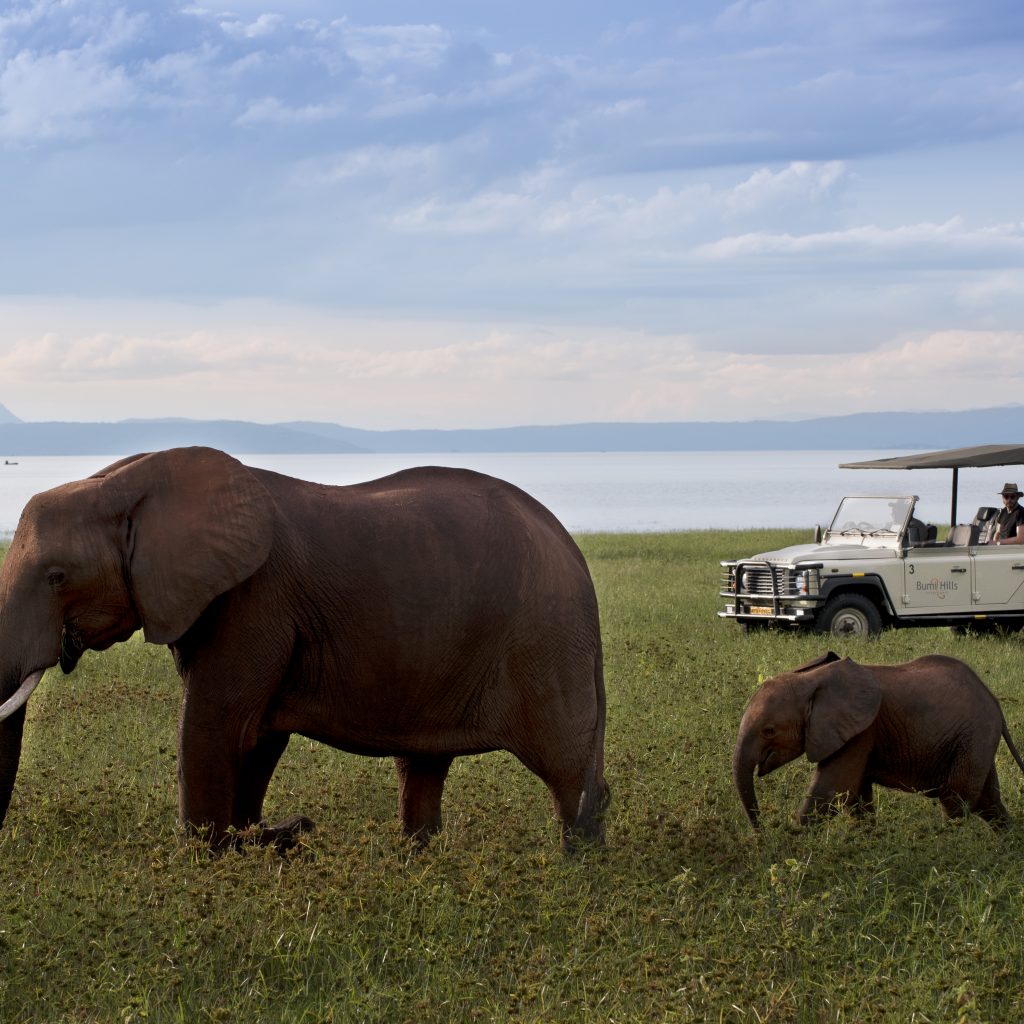 African Bush Camps has joined forces with How Many Elephants to support their annual talk held at the prestigious Royal Geographical Society in London on 6th June. This years talk 'On the Front Line' offers an evening of adventure with inspirational speakers from the front line of conservation in Africa.
As a conservation-driven organization African Bush Camps promote and influence travel to Africa on a global scale while operating with an environmentally sustainable footprint. Employing an ethos that strives to empower local communities in the areas in which they operate, a strong focus on conservation is at the heart of their operation.
Headline Speaker: Holly Budge
Adventurer | Conservationist | Designer
Holly will be sharing her adventurous tales of fundraising from the summit of Everest to immersing herself with the Black Mambas, an all-female front line anti-poaching team in South Africa. Holly founded 'How Many Elephants', a design-led campaign, to inspire and educate a global audience about the impacts of the elephant ivory trade. To date, she has raised over £300k for charity. More at www.hollybudge.com
Headline Speaker: Dr. Niall McCann
National Geographic Explorer | Conservationist | Biologist
Niall is the Director of Conservation for National Park Rescue, a direct-action conservation organisation that focuses on preventing the slaughter of elephants, rhinos and lions in sub-Saharan Africa. Niall's adventures have been covered in the media for many years. He presented the award-winning documentary Lost in the Amazon, and two seasons of the multi award-winning Biggest and Baddest. More at www.niallmccann.com
Bonus Speaker: Beks Ndlovu
Professional Guide | Founder of African Bush Camps
Through African Bush Camps and their foundation, Beks became not only a tour operator but a social entrepreneur and he is proving to be one of the most enterprising and inspiring players in the Tourism Industry today, one who continues to promote and influence travel to Africa on a global scale. More at www.africanbushcamps.com
There will be a short talk by Gavin Bowyer, a trauma & orthopaedic surgeon with a passion for photography which has taken him around the globe. He has sought ways to support charities through his photography to raise awareness of welfare and conservation issues. Gavin's monochrome elephant prints along with award-winning sand artist, Nancy Tschetner's exclusive elephant-inspired paintings will be auctioned on the night.
All proceeds from the evening will go to the How Many Elephants Campaign which supports National Park Rescue and Victoria Falls Wildlife Trust in Zimbabwe, and the Black Mambas in South Africa.
For our VIP ticket holders, there will be pink champagne kindly sponsored by Waud Wines, alongside artisan canapes in the iconic Map Room, with ample opportunity to mingle with the speakers. Don't delay as these tickets are limited.
"An impactful campaign which highlights the need to end the killing of Africa's elephants by reducing the demand for ivory." Tusk
About How Many Elephants:
The 'How Many Elephants' Campaign is using design as a powerful visual communication tool to raise global awareness of the devastating impacts of the African elephant crisis. Few people know that 96 African elephants are poached each day for their ivory. At this astonishing rate, they will be extinct in the wild within a decade.
The multi award-winning, design-led campaign is hard-hitting in the way it showcases 35,000 elephant silhouettes, the current annual poaching rate in Africa, in a striking exhibition and also on Instagram – www.instagram.com/howmanyelephants/ – launched on January 1st 2019. Every day for a year, a square of 96 elephants is posted depicting the daily poaching rate to show the sheer scale of the poaching crisis. Gruesome images of mutilated elephants have been purposely avoided. To actually see and connect with this data visually is highly impactful.
Holly immersed herself with the Black Mambas, an all-female, anti-poaching team in South Africa and documented her experiences with these role models on film. She comments:
"It was a privilege to immerse myself with the Black Mambas to intimately learn what drives and motivates these pioneering women to pursue their multifaceted roles as protectors, educators and beacons of hope. Armed only with pepper spray and handcuffs, these women patrol hunting grounds of armed poachers who pose an imminent threat to the elephant species. They also strive to change attitudes towards the role of women in Africa and beyond. I have fundraised £9500 so far for the Black Mambas."
Holly was quite literally on top of the world when she summited Mount Everest to raise awareness and funds for anti-poaching projects. To date, she has helped raise over £300k for a diverse range of charities through her adventures and charity work. As a double world record holding adventurer, Holly is the first woman to skydive Everest and race semi-wild horses 1000 kms across Mongolia in just nine days.
"Holly Budge is inspiring and determined to save the elephants being targeted by poachers." BBC News
EVENT INFO:
Date:   June 6th 2019. 6.30pm-10pm
Venue:  Royal Geographical Society (with The Institute of British Geographers), 1 Kensington Gore, London. SW7 2AR
Tickets:  Lazy Bird Tickets available till 12th May
VIP: £75 and Talk Only: £25.
Standard prices: VIP: £85 and talk only: £30
EVENTBRITE TICKET LINK:   
https://www.eventbrite.co.uk/e/on-the-front-line-design-thinking-meets-elephant-conservation-in-africa-tickets-58677005503
LINKS:
CONTACT:
Margot Dempsey – +44 (0) 7917 195 186 – margot@howmanyelephants.com
For more information contact: marketing@africanbushcamps.com