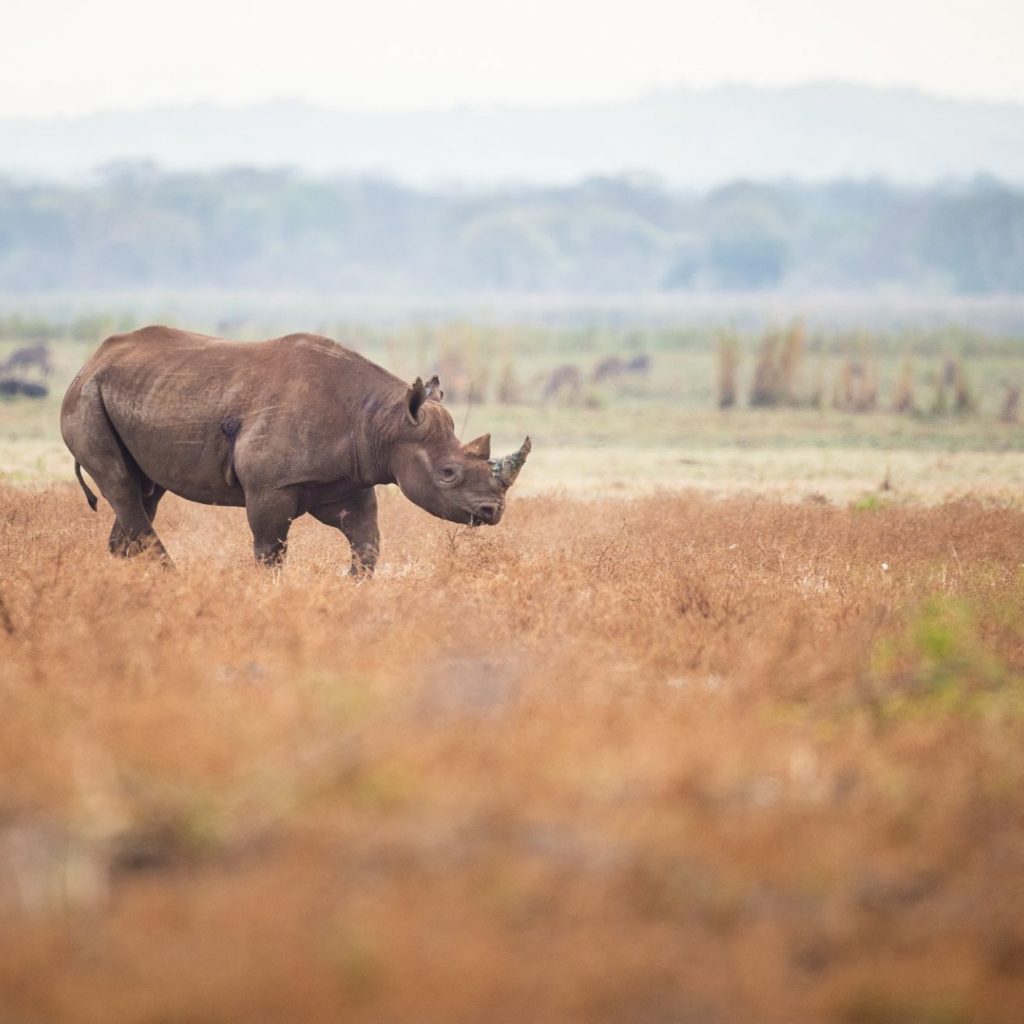 On World Rhino Day last week, African Parks were pleased to announce encouraging signs of a growing black rhino population as the nation re-emerges as a regionally significant conservation stronghold for this critically endangered species. Malawi is overseeing a resurgence of wildlife and its parks under progressive new conservation policies helping to restore its natural heritage to enhance social, economic and environmental benefits.
A major initiative was undertaken in November 2019 to boost rhino populations in Liwonde National Park and Majete Wildlife Reserve, with 17 rhinos translocated from South Africa to Liwonde through a partnership between Malawi's Department of National Parks and Wildlife (DNPW), Ezemvelo KZN Wildlife, African Parks and WWF South Africa. The project also saw rhinos exchanged between the two Malawian parks to improve genetic diversity.
Since its conclusion, the rhinos have acclimatised well, and four new calves have been recorded with two in Liwonde and two in Majete; a hopeful sign that numbers will continue to climb in these secure sanctuaries, which are both managed by African Parks in partnership with the DNPW.
"Thanks to the foresight of the Malawian Government, significant strides have been made to transform its profoundly important parks into top nature destinations that have become sanctuaries for species like the rhino and assets for local communities." says African Parks' Malawi Representative Samuel Kamoto. "The growth of rhino numbers in both Majete and Liwonde is extremely hopeful for regional conservation efforts, and demonstrates what is possible given adequate protection and collaborative measures to boost their numbers in the wild."
Liwonde and Majete have specific measures in place to ensure the rhinos' security, including aerial surveillance, daily ranger patrols and the integration of advanced technology to enable the real-time tracking of each individual rhino on a constant basis.
Last year's translocation, one of history's largest international transfers of the species by air, resulted from a custodianship agreement between the South African and Malawian Governments to enable an international collaboration to conserve black rhinos in the region. It was also the first cross-border translocation undertaken by WWF's Black Rhino Range Expansion Project (BRREP), and the 13th undertaken by BRREP since its inception in 2003.
"This is why WWF entered into partnership with Ezemvelo KZN Wildlife nearly two decades ago," says WWF's project leader Dr Jacques Flamand. "It's what we're about. We decided to increase the range of black rhino in order to increase growth rate and numbers of the critically endangered species. It started slowly and has taken a lot of hard work and commitment from a lot of partners. Now we are starting to see the results that we hoped for."
In recent years, the Malawian Government has enacted visionary policies to ensure the protection of its natural resources and protected areas, establishing the nation as one of Africa's most eminent conservation destinations for a sustainable tourism-based economy. Effective management and rehabilitation strategies have transformed Majete and Liwonde through the Government's public-private partnership with African Parks since 2003 and 2015 respectively. Law enforcement was overhauled to improve safety for people and wildlife; over 4,000 animals from 16 different species were introduced to repopulate the parks; 15,000 scholarships have been provided as part of their community development programmes; and tourism revenue, both domestic and international, dramatically increased between 2015-2019 for the direct benefit of the parks and the communities they support.
Director of the Malawi Department of National Parks and Wildlife Brighton Kumchedwa stated "rhinos are one of many species in the world that are threatened with the prospect of being lost forever, unless together we choose to change that trajectory. We are proud to have collaborated with the Government of South Africa, and with partners like African Parks with whom we have worked concertedly to restore biodiversity and protect key species. Through our joint initiative to secure a viable population in Malawi, we give rhinos a better chance of survival and make the nation a "big five destination", availing it of the opportunity to benefit from a sustainable tourism economy".
With the species under siege across their remaining range in Africa, and black rhino numbers reduced to around 5,500 in the wild, translocations to well-protected areas are essential in giving populations a chance for recovery. In Malawi, the re-establishment of a viable population improves the long-term prospects of the species in the region, bringing hope for their survival while enriching the biodiversity of the parks for generations to enjoy.
The rhino translocation was made possible with the support of Stichting Natura Africae, Vale Logistics and Save the Rhino International. WWF Belgium, The Wyss Foundation, and the players of the People's Postcode Lottery have provided key multi-year support for the overall management of these parks. The BRREP project is managed by WWF South Africa with funding support from WWF Netherlands, the WWF Nedbank Green Trust and the Ford Wildlife Foundation.