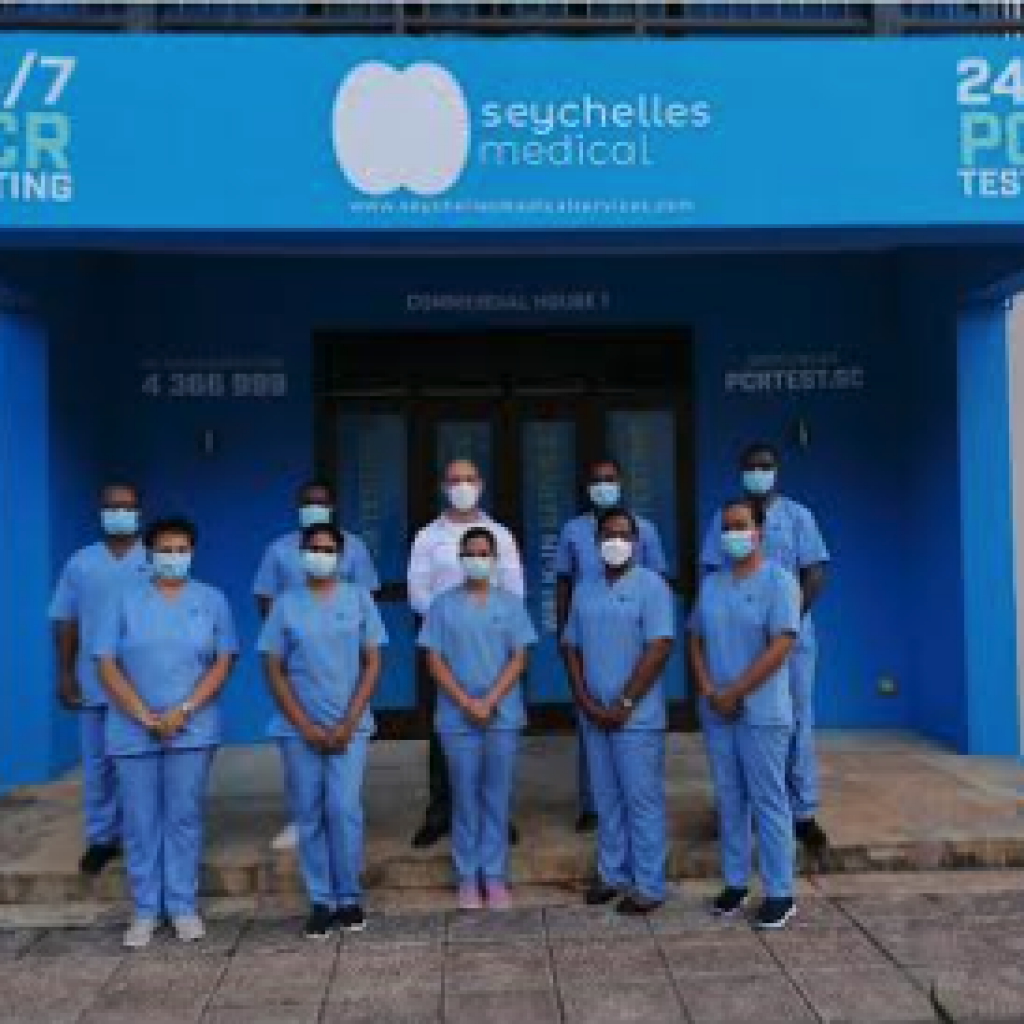 Seychelles Medical Services Pty, a new healthcare company registered in Seychelles opens the first state-of-the-art dedicated Covid-19 testing laboratory in Seychelles.
The private facility is the second in Seychelles to provide exit Covid-19 PCR testing services aside from Euro Medical Family Clinic which started their service a few months back, although this one facility has a much bigger capacity.
The facility aims at providing convenient and seamless testing services primarily for tourists before flying abroad. The services will also be extended to the local market for anyone in need of an internationally accredited travel certificate for travel.
The first center to open under the trade name is located on Eden Island at "The Blue Building" (next to Bravo Restaurant). By the end of May 2021, Seychelles Medical Services Pty anticipates opening five sampling branches on Mahé, Praslin and La Digue. All centers will operate on a 24/7 basis.
The new laboratory can process over 30,000 tests per day and the tests can track all known genes and variants of COVID-19.
The facilities provide the full range of tests for travellers including a Rapid Molecular Covid-19 Test, the Gold standard Polymerase Chain Reaction (PCR) Test, Rapid Antigen Test and Antibody Test.
Travel Certificates or test results will be issued by email within 24 hours of taking the test on a standard service, whereas an express service is available for results within 8-10 hours. A Fast-Track Service can return the result in 2-3 hours if needed.
For clients who want the ultimate convenience and privacy, the Seychelles Medical Services also has eight dedicated Specialist Teams who can visit them in the privacy of their hotel rooms, or even on their boat, to administer the test.
Seychelles Medical Services, owned by Mr Justin Etzin, now has the largest Covid-19 testing laboratory in the Indian Ocean.
Mr Etzin has said he was delighted to launch the new laboratory and facilities to provide a dedicated testing option to the exiting passengers and locals alike.
"We are pleased to be doing our part and to be another option on the market for such important tests. We will offer travellers the only 24/7 service in Seychelles with reliable and fast Covid-19 tests for their travel needs," he said.
"This is especially important at a time when passenger traffic into the country is increasing. Our service is delivered at modern and dedicated locations open around the clock or if it is more convenient we will come to you."
The Chief Executive of the Seychelles Tourism Board, Sherin Francis has welcomed the addition of a new testing facility for tourists on Mahe, and soon on other islands.
"We, in the tourism trade, understand and appreciate the importance of having adequate and convenient testing facilities which will give our visitors the peace of mind," she said.
"We thank the Seychelles Medical Services Pty and all other local clinics who are offering such a necessary and indispensable service, especially as tourist numbers are growing and we should prepare ourselves for when more countries are open for travel."
Mrs Francis noted that as the vaccination drives gather pace all over the world and more countries are likely to come out of lockdowns, European summer travel is looking increasingly possible.
"We will be dealing with a much bigger load of requests for tests and we believe that offering travellers with a wider choice of where they can take the tests, is important to helping our tourism to bounce back," she said.
Other private clinics offering the COVID-19 related services in Seychelles are Euro Medical Family Clinic, Future Care Clinic and Victoria Health care services.
For more information about the COVID-19 testing services on offer in Seychelles, visitors may visit the STB advisory page https://advisory.seychelles.travel.