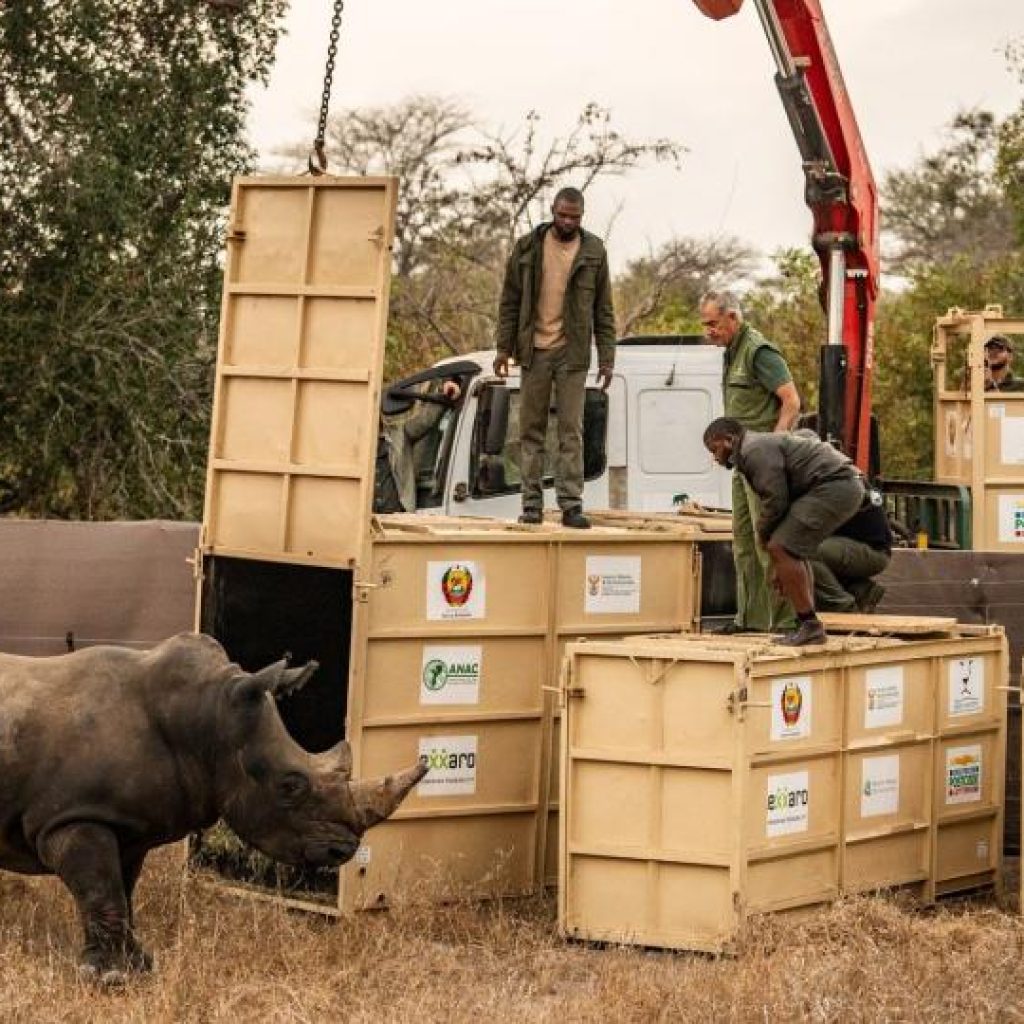 Marking a significant achievement for cross-border conservation and community livelihoods, an additional 10 rhinos have been successfully transported from South Africa to Zinave National Park, Mozambique.
The ambitious operation, the third following last year's cross-border rhino translocations, is the result of a collaborative partnership between Mozambique's National Administration for Conservation Areas (ANAC), Peace Parks Foundation, and Exxaro Resources, with the support of the Government of South Africa.
Exxaro donated the rhinos and have made a substantial contribution to the park's operational costs, with additional funding provided by Anglo American, the De Beers Group, Geos Foundation, German Postcode Lottery, the MAVA Foundation and private donors.
This latest translocation includes five black rhinos, classified as Critically Endangered by the International Union for Conservation of Nature (IUCN) Red List of Species, and five white rhinos, classified as Near Threatened by the IUCN Red List of Species, from Manketti Game Reserve in South Africa to Zinave.
The translocation project forms part of a larger landmark effort to restore numbers of both species in the park to establish a founder population of African rhino in Mozambique.
Established in 1973, Zinave National Park holds the distinction of being Mozambique's first Big Five national park and plays a crucial role within the Great Limpopo transboundary landscape.
ANAC and Peace Parks Foundation signed a 20-year agreement in 2015 to restore, develop, and manage Zinave, setting the stage for its restoration and leading to biodiversity benefits.
The long-term objective is to restore a large landscape of over 100 000sqkm, spanning the international borders of three countries.
Equally significant is the empowerment of Zinave's communities, enabling them to participate in the initiative and share in its economic returns, fostering equitable and sustainable conservation.
"Mozambique proudly holds the global stage with its first rhino reintroduction into Zinave National Park, underscoring our commitment to biodiversity conservation and community upliftment," said Ivete Maibaze, Minister of Land and the Environment, Mozambique.
Two previous successful rewilding operations saw the relocation of 20 white and seven black rhinos from Exxaro's private reserve in South Africa.
This reintroduction of the first 27 African rhinos to populate the park in more than four decades, still remains the longest distance by road that rhino have ever been relocated from one destination to another.
Professional care will continue as the rhinos acclimate to their new environment, ensuring their protection through the deployment of Quick Response Force rangers and state-of-the-art conservation technology, creating a long-term safeguard for the entire national park.
"As Peace Parks celebrates a quarter of a century of existence and Zinave its golden jubilee, we're marking a significant milestone with the successful rewilding of rhinos as a flagship species. This accomplishment signals that through public private partnerships, the future of protected areas in Africa is very bright," said Werner Myburgh, CEO of Peace Parks Foundation.