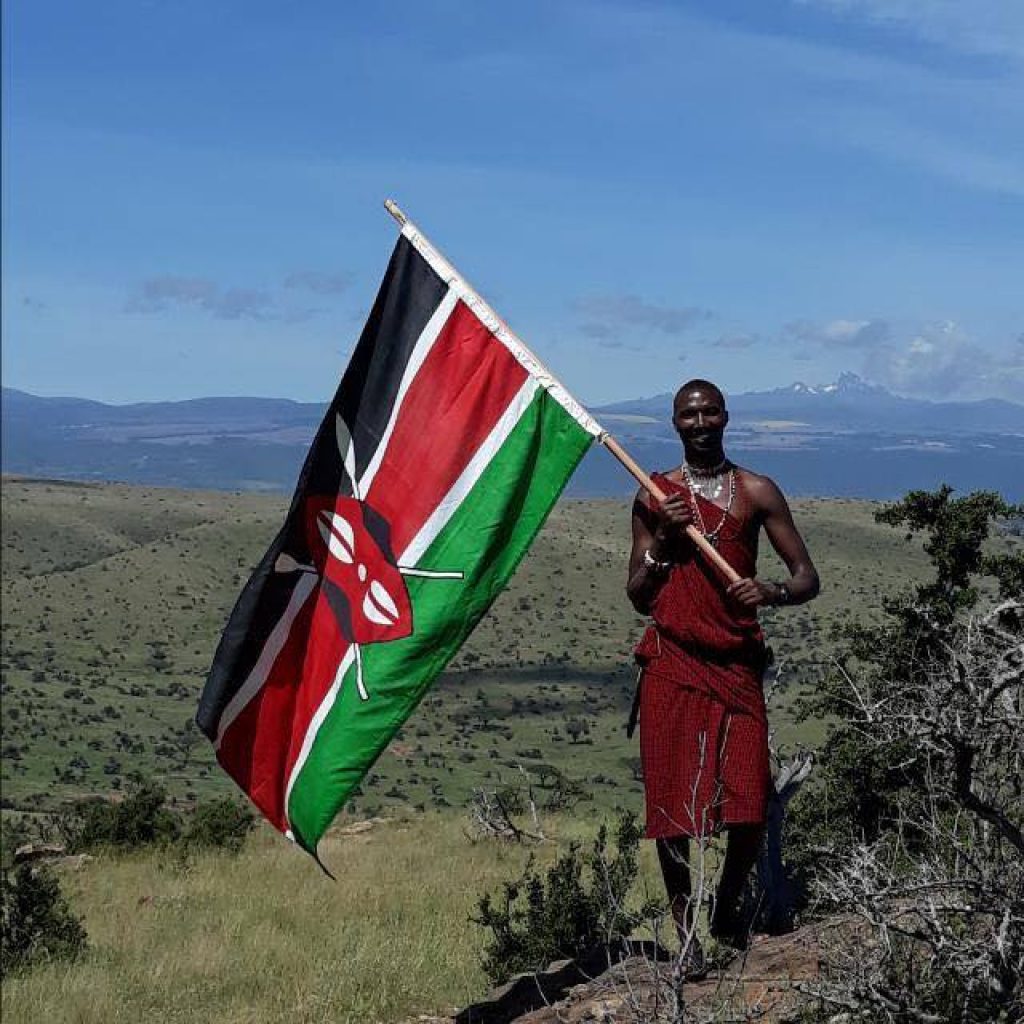 It is such a delight when you meet someone that is so passionate about what they do and is so full of life. The energy and enthusiasm that radiates from this young guide that works at Elewana Kifaru House in Lewa Borana Wildlife Conservancy is infectious. His knowledge of the bush and the animals that live in the conservancy is astounding and he is all too excited about sharing it all with our guests.
Godfrey Kinyaga was brought up in Ngare Ndare Village, which is approximately an hour from Elewana Kifaru House by road.  He became a guide because he is very passionate about wildlife and wildlife management, education, conserving the environment that we live in and coexisting with the wildlife in our area. He knew from a very young age that he wanted to get into guiding, growing up around the Lewa conservancy and the Ngare Ndare forest area and being so close to nature and wildlife of this outstanding area. Godfrey studied hard and after completing school he continued to Utalii College, where he studied tour guiding then attaining his bronze level Kenya Professional Safari Guide Association (KPSGA) and he is currently taking exams for the silver level. Most of his training was done locally in the Lewa Conservancy area.
His passion lies in all things relating to nature and the environment, and being able to share this with his guests. When I asked him "What is the best thing about being a Guide?" he replied "The bush is my office! And I couldn't think of a better place to spend my working day". I can't argue with that, as I think of the stunning landscape that Elewana Kifaru House looks out over, while I sit at my desk looking out over the city.
The conversation turned to the wildlife Godfrey loves and, as we spoke, he told me that the species that needs the greatest conservation are Rhino's, which are protected in Lewa and numbers are growing. Other animals whose numbers are suffering are the reticulated giraffe, gerenuk, cheetah and the grevy's zebra. Godfrey's last statement "We're lucky to share the Lewa conservancy with them all" made me think of future generations and it gave me hope that with individuals like Godfrey, there is a chance for these species and others, which roam the vast wilderness in Kenya.
Godfreys believes that the success in this area lies in the coexistence between the communities and the wildlife, he acknowledges the management of Lewa Conservancy for the work being done and the dedication of all the rangers and staff involved in the protection of our wildlife. Tourism & Conservation is a natural relationship where both benefit each other with no real harm, only then do we have a winning formula. I asked Godfrey, for young men and women thinking of becoming a guide in areas like this, what are three essential things they need? His answer "Personality!! Good people skills, good communication skills and passion".
And lastly, my final question before I left "What would you like people to know that haven't been to Kenya before?" Godfrey smiled and his face lit up with pride "It is a peaceful country with a diverse ecosystem, rich cultures, wildlife, beautiful scenery and warm welcoming citizens. We also enjoy some of the most perfect whether in the world year round. Warm during the day and cool at night, Lewa is the most marvellous place to enjoy and the best night's rest on the planet – at least so our guests tell me!"
The team at Elewana Kifaru House, including Godfrey, are dedicated to what they do; the pride they have in their work and being a part of the community in Lewa is inspiring. We welcome you to experience this for yourself, in a very special place that feels like home and the people around you are family.
Elewana Kifaru House – Lewa Wildlife Conservancy
Guests can relax and feel at home, choosing how they spend their time, whether it is lying by the picturesque infinity pool gazing out over the plains or sitting in the library leisurely reading a book, time stands still at Elewana Kifaru House. Each of the five cottages offer spectacular views with well-appointed bedrooms, complete with opulent four poster beds and generous en-suite bathrooms. Intimate and homely atmosphere offering true luxury in the bush with unrivalled wildlife viewing.